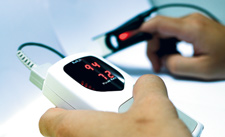 Masimo's latest noninvasive patient monitoring parameter, Oxygen Reserve Index ORI, can provide advanced warning of potential hypoxia and may help clinicians optimize oxygenation before and during prolonged intubation, according to a new clinical study cited by the company.
The study was among 12 selected from more than 1,000 as one of the Best Abstracts at the American Society of Anesthesiologists (ASA) Annual Meeting in New Orleans, the largest gathering of anesthesiologists in the world.
ORI, Masimo's 11th rainbow parameter, provides real-time visibility to oxygenation status in moderate hyperoxic range (PaO2 of approximately 100 to 200mmHg). ORI is intended to supplement, not replace, SpO2 monitoring and PaO2 measurements. As an "index" parameter with a unit-less scale between 0.00 and 1.00, ORI can be trended and has optional alarms to notify clinicians of changes in a patient's oxygen reserve.
At the University of Texas Southwestern and Children's Medical Center in Dallas, Dr Peter Szmuk and colleagues used ORI to track oxygen available in the lungs during pre-oxygenation, safe apnea, and re-oxygenation.
Investigators noted, "Since pre-oxygenation can cause oxygen saturation at 100% for variable durations, this study would aid in the development of an advance indication of desaturation."
With IRB and parental consent, researchers included for analysis 17 pediatric patients scheduled for surgery under general anesthesia with orotracheal intubation.
Optical data was collected using a Masimo Radical-7 Pulse CO-Oximeter, recorded from the time of sensor placement until five minutes after ventilation was restarted after intubation.
The mean time (±SD) from the start of the ORI alarm to SpO2 98% was 40±52 seconds. During re-oxygenation, the time from SpO2 98% to stop of the ORI alarm was 65±31 seconds.
"An advanced predictor of desaturation would be of great benefit to perioperative monitoring," researchers said. "The ORI alarm provides an increased warning time for avoiding potential hypoxia and could help in optimizing the oxygenation before and during prolonged intubation."
Radical-7 with ROOT has a CE Mark with the ORI parameter and is not FDA cleared and is not available for sale in the United States.