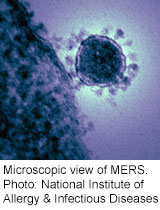 People infected with the Middle East Respiratory Syndrome (MERS) virus are unlikely to pass it to others in their household, a study in the New England Journal of Medicine suggests.
Mostly confined to countries in the Middle East so far, the virus has infected 837 people and killed at least 291, according to the World Health Organization (WHO).
"A lot of speculations have been made that MERS spreads significantly among family members and household contacts of active cases," said study lead researcher Dr. Ziad Memish, Saudi Arabia's assistant deputy minister of health for preventive medicine.
Memish's team studied 26 patients with MERS and their 280 household contacts. The researchers found that 12 people among the 280 household contacts came down with MERS.
According to Memish, that puts the odds of getting MERS from another person at about 5 percent.
"It's reassuring that very low transmission takes place at home among family contacts, and the majority of transmission occurs at health-care facilities," Memish said.
In fact, 25 percent of all MERS cases have been among health-care workers, according to WHO.