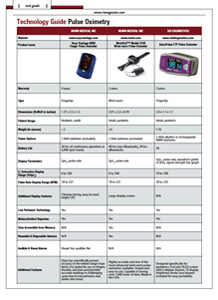 RT Magazine's Technology Matrix for Pulse Oximetry is now available as a downloadable pdf.
[gate width="400″]Download PDF[/gate]
This Pulse Oximetry Technology Matrix is generously underwritten by Nonin Medical Inc, leaders in noninvasive medical monitoring.

Nonin's mission is to provide a diverse portfolio of noninvasive physiological monitoring solutions that empower individuals and caregivers to make better decisions.
To learn more, please visit www.nonin.com.
Note: Adobe Acrobat reader is required to view this pdf. If you do not have Adobe Acrobat on your computer, you can download it for free from Adobe.com.