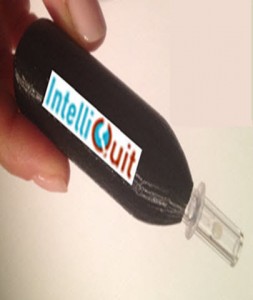 IntelliQuit, the world's first personal pocket size biosensor and ecosystem that biochemically measures tobacco consumption to help smokers quit, is now available on-line via Kickstarter.
The device, similar to a breath alcohol meter, provides the smoker actionable information to help the smoker quit. IntelliQuit allows the smoker to quantify their smoking biochemically with a simple expired breath and offers a fuller understanding of tobacco consumption and addiction.
The device was launched online in conjunction with National Respiratory Care Week, which is sponsored by the American Association of Respiratory Care, American Thoracic Society, the American College of Chest Physicians and the American Society of Anesthesiologists.
While an average of more than 65,000 Americans attempt to quit smoking each day, less than 6% are successful without assistance, the company says.
"The IntelliQuit biosensor and ecosystem will provide information that has proven to assist quitting efforts.  IntelliQuit is a superior product to empower America's 46 million smokers.  You can stop, IntelliQuit will help," said Victor Marchione, MD FCCP, IntelliQuit's Chief Medical Officer.
The device has not been approved by the FDA.
More information is available here.