As healthcare costs and hospital readmissions continue to rise, the field of respiratory care has begun to embrace the advantages of home care solutions for chronic lung patients.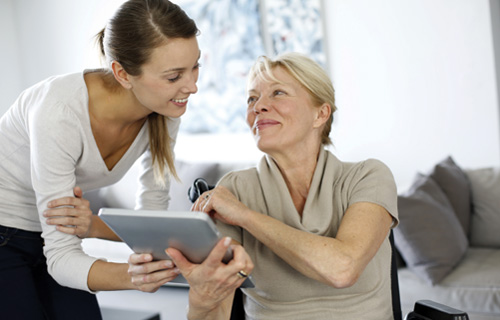 The Affordable Care Act (ACA) is prompting a number of healthcare reforms, one of which is a shift in focus from treatment to prevention. This changing model emphasizes outpatient care. While hospitalizations will never be eliminated altogether, the trend toward shorter lengths of stay is becoming the norm with a greater emphasis on home care.
In an attempt to reduce costs, the Centers for Medicare and Medicaid Services (CMS) has implemented a hospital readmission reduction program (HRRP) that will assess penalties when patients return to the hospital within 30 days for certain diagnoses, one of which is chronic obstructive pulmonary disease (COPD). This program aims to motivate healthcare facilities to ensure better home care and presents an opportunity for respiratory health professionals.
From admission to discharge, patients typically require some type of respiratory care. For those with chronic lung conditions, planning for discharge and subsequent home care should begin upon admission, according to Dom Coppolo, vice president of clinical development at Monaghan Medical Corp. While hospitalized, patients should receive efficient, high quality care to turn the disease state around quickly and reduce length of stay.
"A respiratory therapist can add a tremendous amount of value to that process. Their involvement is key to the continuity of care, such as pulmonary rehab, follow-up, and monitoring home care as part of a program," said Coppolo. "But no one in the hospital has looked beyond the discharge. The hospital has an opportunity to make a difference."
Expanded Opportunities And Responsibilities
"There are numerous opportunities for today's respiratory therapists to redefine their field. The term 'respiratory therapy' is outdated, as tomorrow's respiratory professional will have greater responsibilities, including testing, treatment, research, quality improvement, education, and advocacy," noted Tefilo Lee-Chiong, MD, chief medical liaison for Philips Healthcare, and professor of medicine at National Jewish Health in Denver and at the University of Colorado Denver School of Medicine. "As a key member of a multidisciplinary clinical team, the respiratory professional will help patients receive timely and comprehensive care in a cost-effective and socially responsible manner in the hospital as well as in the home care setting."
As the shift toward home care for patients with chronic lung conditions accelerates, respiratory therapists will find new and greater responsibilities likely leading to changes in education and training. "Understanding the science is essential in order to be effective in home-based disease management programs. Understanding the practice is important to enhance the patient's experience of care. Lastly, understanding the business is crucial to improving efficiencies in care delivery," said Lee-Chiong.
Gary Marston, director of alternate care marketing for Masimo, pointed out that upon discharge a patient's parent or a spouse typically becomes the primary healthcare giver, a role for which they are usually unprepared. "Patients are being discharged at an earlier stage, but are not provided with clinical support. Having RTs act as navigators during discharge, participate in treatment, and educate parents, family, and caregivers is crucial. The RT is clinically trained and can reinforce training for caregivers, helping them adjust as necessary in the home environment," he said.
Timothy Quinn, RRT, national clinical director of alternate care for Masimo, agreed that shifting patient care to the home places a tremendous burden on the caregiver and can be overwhelming without the support of a trained, clinical professional. Take the issue of alarms, for instance. In the hospital, nursing staff is accustomed to the beeping of multiple machines and can respond appropriately, but when a caregiver is awakened 20 times a night by an airway management system alarm, he may be at a loss as to how to handle the situation. "RTs can provide a level of support crucial to taking care of and helping the family survive," he noted.
In addition to offering support to family and the patient, RTs have intimate knowledge of medical devices. They should be available prior to discharge to set up medical equipment in the home. In many cases, durable medical equipment (DME) companies ship these devices to the home; the driver who unloads the truck may offer a quick overview regarding usage and cleaning, but provide no in-depth education on monitoring and managing disease. On the other hand, an RT has clinical and technical knowledge and can instruct caregivers on proper use, cleaning, and maintenance of equipment. Quinn said, "And when it comes to trouble-shooting devices, RTs are most effective."
Quinn added that RTs have a pharmaceutical background and can help with medication management in the home. "Having an RT in the home will increase compliance. An RT can help acclimate the family to the new situation and also administer proper treatment," he said. "There should be coordinated care. The patient may be stable, but is still medically fragile."
While RTs already have life support and critical care skills, they will have to develop techniques to meet the psychosocial needs of the patient and family. Quinn explained that the 17-year-old mother whose baby is on a vent has different needs from an elderly man on oxygen whose wife just passed away. "Complete understanding of disease management will be critical."
User-Friendly Equipment
Many medical device manufacturers have already adjusted their products to better serve patients at home by incorporating different technologies, simplifying usage, and educating patients. "We think that patient engagement technology is the wave of the future," asserted Lee-Chiong. "In the near future, medical devices designed for use in the home will have to incorporate many aspects of digital technology. Connectivity will have to be 24/7; care providers and patients will be able to communicate with each other using stationary or mobile portals at any time and from any place. Health-related data will have to be collected and analyzed continuously via monitors that are worn or are part of common household appliances, such as clocks or pressure-sensitive bed sheets."
[sidebar float="right" width="250″]Clinical Study To Assess RT Value In Home Care
For two decades, Vernon Pertelle, RRT, RN, president and CEO of StratiHealth, has been a staunch advocate for respiratory care professionals. His most recent endeavor involves a study that aims to demonstrate the value an RT can bring to home care for patients with chronic lung conditions.
The penalties for readmitting patients with chronic obstructive pulmonary disease (COPD) prompted the study. "COPD is a burning issue. The timing is right to establish the respiratory therapist as a valuable team member. RTs have not been viewed as a valuable part of home care. It's always been about the equipment. This study hopes to stimulate other efforts," Pertelle said. "This study is the first of its kind."
The invitation-only, blind study began in March 2014 and required careful site selection. "We had to get the right environment and eliminate bias, loss to follow-up, and error rates and have better control over methods, policy, and process. The organization had to have the infrastructure in place and leadership had to be on board. Our goal is to show that RTs are the best resource," he reported. Four locations are participating over the 1-year study period. Pertelle anticipates releasing an abstract in 6 months.
Pertelle's goal is to create a database of 100 COPD patients. "We will follow them 24 weeks post-discharge to determine if the patient is maintained properly. Patients will be risk stratified by readmissions, exacerbations, and FEV1/FVC scores," he noted. The study will establish a baseline to determine RT intervention.
Also, in August, Pertelle and Robert McCoy, BS, RRT, FAARC, are sponsoring a conference, "Education and Training to Balance the Treatment and Management of Patients Diagnosed with COPD" through Pulmonary Horizons. Home care administered by respiratory therapists will be one of the discussion topics.
– Phyllis Hanlon [/sidebar]
"These programs will need to include algorithms designed to detect worsening medical states early, anticipate disease progression, and, hopefully, recommend timely interventions to prevent adverse medical outcomes," Lee-Chiong added. "These devices should allow patients, if they wish, to share their medical data with families, friends, and peers. Such sharing may be enabled through a simple Bluetooth connection to a caregiver located in a different room in the same home, or to a family member living across the globe. These devices should be easy to use and maintain, affordable, durable, and aesthetically pleasing."
The technology behind Masimo's medical devices is the same whether used in the hospital or at home; the difference lies in the packaging. For instance, devices for inpatient use provide a tremendous amount of data; at home, this much information would overwhelm a parent or spouse. Masimo's pulse waveform device for home use provides only saturation level and heart rate, two statistics vital to patient health. Moreover, patients are encouraged to remain active so device mobility is important. Quinn said, "We keep our equipment small and portable. It's important for the patient to be as mobile as possible."
Marston added that some home devices are becoming easier to use and communicate wirelessly. "I see a blending of consumer technology with medical technology. Consumers want to take ownership and, over time, devices will become more user friendly with quicker, more mobile connectivity," he said.
Monaghan Medical's products are developed around core competencies to ensure patient compliance and translate easily from hospital to home. "When we entrust caregivers, we put thought into the products," said Coppolo. As a basic rule of thumb, products that are proven to achieve the desired outcomes are optimal. "You can't really think by using the cheapest device it will do the patient the most good. You have to be thoughtful about the process. Make the transition easy."
Hospitals and insurers are in a cost-cutting mind-set, but are forgetting that the system still has to care for patients. "We need to pay attention to the continuum of care," Coppolo emphasized. Although medical devices may be more patient-friendly, a respiratory care professional is the one who has the skill and know-how to monitor disease effectively. "People don't understand how to efficiently utilize respiratory care protocols and deliver appropriate care. It's up to the RT to prove his value. At this point, the RT should stand up and show how they make a difference. There will be a surge in Baby Boomers and an increase in chronic disease. We can't afford to do things like we did in the past."
DME Distribution
Fairly new to the market, Respinnovation SAS, has been selling Respin 11, a "focused pulse" high frequency chest wall oscillation device, through specific DMEs. Barrett Mitchell, president, founder, and inventor, explained that his company decided to offer its products through distributors that have in-house respiratory therapists who can support the patient, attend to their needs, and provide upgrades to medical devices when necessary.
"We want to work with distributors with quality staff who have the ability to give instructions in the home. The patients get regular visits and supervision. The RT makes two visits initially: one to set up the equipment, and a second, 4 weeks later, to monitor and see if the patient is using the device correctly," Mitchell said.
The distributors typically cover one state or a centralized region for readily available access to the Respin 11. "This model will help move the at-home principle forward. It can be a way to support and educate the patient better than you could by phone or e-mail," said Mitchell.
Mitchell added that equipment with few adverse effects can help improve compliance. For example, the Respin 11 doesn't change the heart rate, electrocardiogram reading, or blood pressure. "In a pre-FDA safety study, it showed no changes to the body with a head-to-head study against a competitor. Patients say they can use this device more easily," he noted. "There is a lower noise and higher comfort level. Quality of life is improved since it's easier to tolerate. The patient will use it more regularly."
Finding A Solution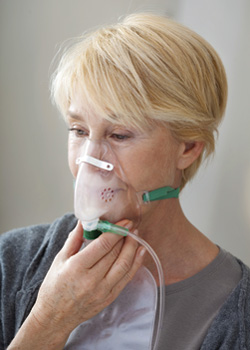 Robert McCoy, BS, RRT, FAARC, managing director of Valley Inspired Products Inc, pointed out that although having respiratory care professionals delivering at-home services makes good sense, they cannot simply transfer skills and knowledge from hospital to home without going through a learning curve. "Home is a foreign environment. The objective, tools, and patients are different," he said. "In the hospital, the respiratory therapist gets the patient healthy. At home, the patients are moving targets. In the hospital, they are under control, but at home, patients do their own thing."
Moreover, the tools may sometimes be inadequate to accomplish therapeutic goals. "When a patient goes home, one type of equipment is ordered. Even if it turns out to be the wrong equipment, insurers won't pay to change it," McCoy added. "You may need to use the most expensive piece of equipment to fill an immediate need and then pull back as the patient condition improves. One hospitalization exceeds the cost of any piece of home equipment."
The biggest stumbling block the respiratory care industry faces is reimbursement. "Insurers will pay occupational therapists, physical therapists, and nurses. But RRTs only have a 2-year associate degree. They need a 4-year degree to get paid as an independent," said McCoy.
"But why are RTs regulated when the people delivering DME drop off the equipment and don't have any respiratory education at all?" he asked.
McCoy, who owned a DME company from 2006 to 2009, has examined the situation and offered an option. He suggested hospitals run home respiratory care programs and become the payor source. "The home RT would be part of the discharge team and would set things up in the home, then monitor the patient," he said. "If the patient needs to go to the hospital, the RT can report on patient status to the physicians."
McCoy is currently working on such a program through which a hospital would purchase and store equipment. He would provide RT services in the home and call for equipment when needed.
According to McCoy, the profession needs a home-based study (see sidebar, above) to reinforce the value of the respiratory therapist in the care of the patient who has been discharged to home. However, to date, all research has been hospital-based. McCoy indicated that the cost benefit ratio to having RTs care for patients at home makes a convincing argument. "If you paid me $10,000 annually, it would save between $50,000 and $60,000 in hospitalization costs," he said. "We need to clearly understand the problem so we can find a solution."
Involving a respiratory care professional in home care for patients with chronic lung conditions is not merely a matter of reducing readmissions. "It's about quality of life," emphasized Quinn. RT
______________________________________________________________________
Phyllis Hanlon is a contributing writer to RT. For further information, contact [email protected].