Mechanical ventilation is a life-saving technology, but the inevitable decision to wean a patient off of a ventilator requires a skillful combination of proven protocols, reliable technology, and teamwork between RTs and physicians.
By Phyllis Hanlon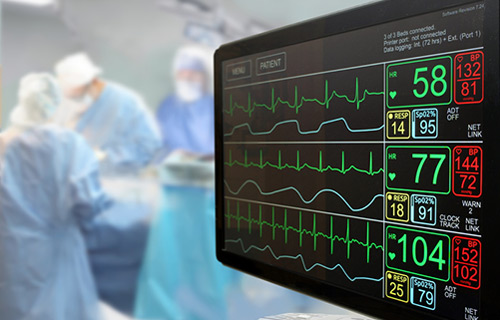 For patients unable to breathe on their own, mechanical ventilation can provide life-sustaining oxygen—but potential risks and adverse effects require careful oversight. To reach the end goal of restoring full breathing function to the patient whenever possible, hospitals are developing more effective weaning protocols and manufacturers are creating improved ventilator technology that incorporates useful analytics and interoperability capabilities.
Adverse Effects of Prolonged Ventilation
Patients on long-term ventilation are routinely sedated, often impacting cognitive functioning and prolonging dependence on the device. Jeffrey Davis, BS, RRT, RCT, director, Respiratory Care Services and Pulmonary Function at the Ronald Reagan UCLA Medical Center in Los Angeles, asserted that the industry tends to over-sedate patients. "This has to do with time management. If we could spend time with the patient and explain, keep him apprised of what's going on, we wouldn't need sedation and the patient would have less anxiety," he said.
Davis suggested using non-sedating medications whenever possible, which would allow for earlier weaning. "Personally, I don't think we extubate the patient quickly enough. We put the patient at risk by leaving the tube in for too long. You need to be aggressive with the patient on a vent because they receive anesthesia," he asserted. "Once the patient is awake and breathing, you should monitor him closely. Be proactive."
Duncan Hite, MD, chair, Department of Critical Care Medicine at The Cleveland Clinic, reported that in the last 10 years the medical world has been aware of the use of heavy sedation and the risks it carries. Negative cognitive effects, long-term neurologic issues and even post-traumatic stress disorder could be attributed to sedation drugs.
But the issue of sedation is not a "one-size-fits-all" solution. For instance, an otherwise perfectly calm patient in normal life who is now in the ICU would most likely still be calm. "Keeping this patient on minimal sedation is best," said Hite. "But a patient that uses alcohol, drugs or is anxious in normal life will be more of a problem in the ICU and will probably require more sedation. It's impossible for a provider with a high level of certainty to distinguish if there is a lack of respiratory reserves or if someone is just uncomfortable," Hite explained.
Mobility also impacts a patient's readiness for weaning. At UCLA's medical intensive care unit (MICU), a robust early mobilization program is achieving good results, according to Davis. He explained that the program promotes early ambulation, even while patients are still on mechanical ventilation. "It takes a lot of effort [to ambulate the patient] with all of this equipment. But it's all part of weaning, trying to liberate the patient. This is better for the patient's mind and body and improves recovery," he said.
Hite added, "Patients also may experience neuromuscular weakness on two levels. If mechanical ventilation does work well, the muscles in the diaphragm will not be doing any work and they become weaker. When a patient is on a mechanical vent, he should be allowed to do as much work as he can, measured by how fast he is breathing. A machine setting of between 20 and 25 breaths a minute is reasonable."
Additionally, many patients on mechanical ventilation are lying in bed. "All the muscles are used much less than before their illness," Hite said. "Between sedation and inactivity, weakness in arms and legs occurs if the patient is on the vent for four to five days." He noted that in the past ten years or so, some facilities are giving patients on vents physical therapy in spite of the cost of hiring physical therapists work in the ICU. "If you spend more for [physical therapy] on the front end, you'll spend less in rehab on the back end."
While ventilator technology has improved dramatically, Davis sees challenges for clinicians who don't understand the technology. As an example, he cited Maquet's Neurally Adjusted Ventilatory Assist (NAVA) technology, which is based on neural respiratory output. NAVA captures the electrical activity of the diaphragm and sends it to the ventilator, which works in synchrony with the patient's breathing, he explained. "[Clinicians] need to know how to use the triggering technology on the NAVA vent or they won't use it."
According to Davis, respiratory therapists have a strong academic foundation, hands-on clinical skills, and device-specific training, so they can play an important role in assessing and treating patients on ventilators. At UCLA, RTs have developed trust with physicians and collaborate on timing and appropriateness for patient weaning. "We assess the patient and give the parameters. The physician doesn't even need to see the patient," he said.
Customized Protocols
Organizations, such as the American Thoracic Society, have issued guidelines for weaning patients from mechanical ventilation. A number of hospitals have adopted these guidelines, while others have modified them or created their own, specific to patient population. Davis indicated that UCLA follows a couple of different protocols; one is the standard ARDSnet protocol and the other, a rapid cardio-thoracic weaning protocol, which is used in the surgical intensive care unit (ICU), and was developed and implemented in 2010.
Davis explained that when a patient is admitted, he is put on pressure controlled mechanical ventilation, followed by basic initial assessment, including chest x-ray, blood gas analysis, capnography, and pulse oximetry. After assessing hemodynamic and oxygenation status, the nursing staff discontinues sedation.
Once the clinician evaluates neuromuscular strength and temperature and the patient is awake and breathing, the patient is extubated. "This doesn't require physician approval," Davis said. "Depending on the patient's stability, weaning may be done with pulse oximetry monitoring. In some cases, we may just extubate, based on capnography and pulse oximetry readings."
Davis keeps vent reports to identify areas that need improvement and serve as an aid for risk management. "We can see when something does not go the way we planned," he noted.
For instance, when a patient extubates himself, the circumstances surrounding the extubation are recorded and evaluated. Davis and his department, concerned they were not achieving the national standards of patient extubation within six hours, recently collected six months of data. "But looking at the data, with the exclusions, we were well within the range of the national average," he said.
Cleveland Clinic uses spontaneous breathing trials and manipulates the settings on the ventilator so the patient is doing the work of breathing, but is still connected to the vent, reported Hite. "If the patient can breathe for one minute, then we do a more sustained trial, maybe two hours, then discontinuing mechanical ventilation is considered," he said.
"A patient that can only do a couple of minutes may not be ready for discontinuation," Hite continued. "They may have some ability but not enough endurance. The process is heavily dependent on patient assessment and rolling over results to spontaneous breathing trial. This approach is not novel to Cleveland Clinic. It's an approach to weaning that has been slowly refined, available and recommended for more than ten years. Each hospital has its own threshold for SBTs." 
Enhanced Ventilator Technology
During the last five to 10 years, the scientific community has made great strides in understanding the cause-effect relationships of lung disease and artificial ventilation, according to Edwin Coombs, MA, RRT-NPS, ACCS, FAARC, director of marketing, Intensive Care & Neonatal Care North America, Draeger Medical Inc. "Technology has followed suit with these understandings of therapy options to potentially prevent or limit complications associated with mechanical ventilation. Additionally, improvements to safety and workflow have improved the ICU environment.
"At Draeger, our goal is to build technology that maximizes patient outcomes while reducing complexity and costs through proven technologies," Coombs said. "The Evita Infinity V500 ventilator provides a comprehensive set of therapy tools to address variations in clinical practice and supports improvements in workflow where a single device can meet the clinical challenges of most patient ventilatory requirements."
This device features a variety of tools to support weaning, one of which is the SmartCare/PS program. "This feature will continually assess the patient's readiness for weaning and automatically make appropriate changes based on feedback controls of respiratory rate, tidal volume and ETCO2," said Coombs, adding that studies show a significant decrease in ventilation time when using SmartCare/PS.1
The growing implementation of electronic medical record systems is helping to advance technology as well, and may prevent human error when it comes to data transcription, according to Coombs.
"Having ventilator data available remotely provides access to clinicians with the tools necessary to make decisions, even when not at the bedside. The troubleshooting and data interpretation that can be shared beyond the bedside can create better decision making and lead to a more progressive care plan to advance weaning, intervene in an emergency and improve overall communication amongst caregivers," he said.
Furthermore, in the last decade the addition of microprocessor control, enhanced monitoring techniques, and safety features represent great strides in ventilator technology, asserted Tom George, clinical marketing manager for CareFusion.
"Devices are more sensitive to interaction with the patient. The vent is good at knowing what the patient is doing and when to self-adjust," George said. Today's ventilators also capture and retain important patient clinical data that can be used for tracking and trending purposes.
While these ventilators come with preset parameters, they can also be customized according to need, added Natasha Barany, product manager for CareFusion's AVEA ventilators. Built-in features that measure negative inspiratory pressure and volumetric CO2 automatically assess patient condition on a continuous basis, providing the clinician with important information related to weaning readiness. The AVEA ventilator has an esophageal pressure differential measurement tool that looks at advanced parameters to determine why one patient weans and another does not.
Patients fail weaning trials for a variety of reasons, including cardiac instability and high sedation levels, especially in surgical patients. But sometimes clinician availability affects initiation of a weaning trial. For instance, a nurse could stop sedation in preparation for weaning, but a therapist may not be readily available to begin the trial. By the time a clinician is ready to start the process, the patient may have become restless and anxious.
Knowledge is Power
CareFusion's Knowledge Portal, a decision-support tool, can help to resolve this type of situation by providing the clinician with weaning and sedation analytics to facilitate better patient care. The software application looks at the computerized protocol; when sedation has been tapered and the patient reaches a specified marker, the Knowledge Portal notifies the clinician that the patient is ready to begin a spontaneous breathing trial (SBT). George indicated that this app works with AVEA and ReVel ventilators; clinicians can access the patient data and analytics from any Web-enabled device.
Barany explained that the critical metrics and indicators retained by the Knowledge Portal could help hospitals track trends and create effective ventilator-associated event (VAE) protocols.
"Looking at the data is good for establishing policy. You can see which patients are doing best," she said. She reported that hospitals that purchase CareFusion products receive access to Knowledge Portal as part of the package. "It's tied into the hospital information system. They always have access to their data. This is a new way of looking at data and using it to the best benefit," she said.
Knowledge Portal provides data on a monthly basis and can compare data to the previous month and recognize any changes, saving the hospital time and money. For instance, in the past, data on average ventilator length of stay had to be collected manually. "Someone had to go to the bedside and track the information. In this day and age, hospitals are looking to save money and manpower," George said.
CareFusion's Alaris pump also works in conjunction with the ventilator to evaluate sedation levels, George said. "By reducing clinical variability, you can achieve standardized protocols that are more effective and have promising results."
The industry has seen a trend toward noninvasive ventilation (NIV) during the last five years, according to George. "This is considered a branch of the weaning protocol," he said. Take the case of a patient with chronic obstructive pulmonary disease; he might fail SBT, but would be a suitable candidate for masked NIV.
Although these automated tools have improved patient care, clinical observation is still key in starting any weaning process. "The patient has to have some resolution in the process that brought him into the hospital in the first place," said George. Physician and/or therapist oversight, together with enhanced vent technology, can help make that determination.
Team Approach
Successful weaning takes a team approach, according to CareFusion's George. While the respiratory therapist might initiate the protocol, nurses, physicians, nutritionists, physical therapists and other clinicians should be involved in the process.
"All parties have to agree—using evidence-based practices—on the need to establish protocols. Everyone should buy-in and stick to the protocols," he said, reiterating the importance of good clinical assessment.
Once protocols are established, they need to be reviewed periodically. "When we develop a protocol, we give it a year, in the absence of any new and important information, and benchmark against hospitals of similar size and acuity," George said. "We review the literature and constantly fill in any holes regarding sedation, lung protective strategies and other measures."
____________________________________________________________
 Phyllis Hanlon is a contributing writer to RT. For further information, contact [email protected].
____________________________________________________________
Reference
Burns K, Mead M et al. AJRCCM. "Wean Earlier and Automatically with New Technology – A Multicenter Pilot Randomized Controlled Trial." March 2013, 1-45.