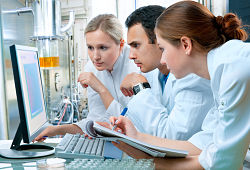 Monaghan Medical and its affiliate, Trudell Medical International, collaborated on a study to demonstrate that under-dosing of inhaled medication delivered by continuous nebulizers is possible as the result of changes to inspiratory / expiratory (I/E) ratio. The purpose of the study was to demonstrate the likely variability of medication delivery from continuously operating pneumatic nebulizers at different I/E ratios in tidal-breathing patients.
The study was conducted with two continuously operating jet nebulizers, AirLife Misty Fast by CareFusion, and NebuTech HDN by Salter Labs. Each nebulizer was evaluated in a simulation of adult tidal breathing on an ASL5000 breathing simulator by IngMar Medical.
The simulator was coupled with a mouthpiece and the following waveforms were investigated: tidal volume fixed at 500ml, I/E ratios equal to 1:1, 1:2, 1:3 and 1:4, breathing cycles/min equal to 15, 10, 7 and 6 respectively.
The emitted aerosol from the nebulizer, containing albuterol sulfate medication, was collected at the bacterial/viral filter, mimicking the entry to the oropharynx. Each nebulizer was tested with 2.5mg albuterol sulfate in a 3-mL fill. The total mass of albuterol was calculated after assaying for albuterol by a validated HPLC-based procedure.
In parallel experiments, fine droplet fraction < 4.7 micrograms were determined by laser diffractometry on the Malvern Spraytec laser diffractometer.
The study results showed that fine droplet mass values decreased with increasing I/E ratio for both nebulizer groups. The decline across the range studied taking I/E ratio equal to 1:1 as reference was -42% for the Misty Fast and -46% for the HDN nebulizer.
This study concludes that significantly less medication was delivered per treatment by both the AirLife Misty Fast and NebuTech HDN with changes to patient inspiratory / expiratory (I/E) ratio.
The increasing proportion of each cycle devoted to exhalation results in an increase of medication being wasted by these continuously operating nebulizers. Additionally, changes in a patient's inspiratory / expiratory (I/E) ratio is a likely clinical scenario as disease state worsens or in patients with a compromised respiratory condition.
One potential solution to this clinical challenge would be the use of a breath-actuated nebulizer, such as the AeroEclipse II Breath Actuated Nebulizer (BAN).
The AeroEclipse II BAN creates aerosol in response to the patient's inspiratory flow. This patient on-demand therapy means less medication waste, higher drug delivery efficiency and safer clinician working environments.
"The AeroEclipse II BAN consistently delivers a reliable dose of medication, regardless of patient I:E ratio," states Dominic Coppolo, Vice President of Clinical Affairs at Monaghan Medical Corporation. "The clinician cannot control how a patient breathes during a nebulizer treatment, but more of the medication is available to the patient because of minimal loss of aerosol to the environment," Coppolo concludes.