Products in the airway management market are responding to the industry's need to reduce hospital stays and potential readmissions by focusing on home care solutions.
By Lori Sichtermann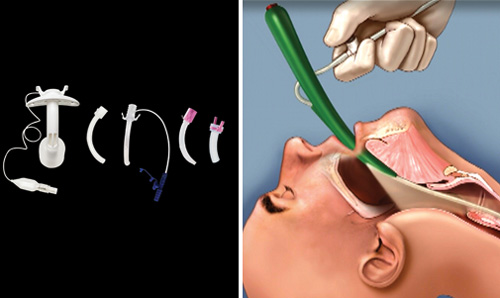 Airway management is a critical element within the field of respiratory therapy. Like other product segments, the airway management market is evolving to incorporate low cost therapy, patient comfort, and ease-of-use for those administering treatment.
The field is seeing increased utilization and development of technology for use in home care settings. Manufacturers are realizing that RTs are not solely responsible for patient care, but instead, a growing number of family members or specialized caregivers are administering treatment to those in need.
To shed light on developments within airway management, RT Magazine spoke with industry experts regarding the segment's product advancements and what RTs can expect from it in the future. Contributing to the discussion this month were:
Todd A. Laderach, vice president, sales and marketing, Pulmodyne; and
Nicholas Pastron, CEO, NJR Medical.
RT: In your opinion, what is the state of the airway management market today?
Laderach (Pulmodyne): The airway management market today is under a fine microscope, receiving attention as one of the areas identified as a significant culprit for preventable hospital-acquired infections. Respiratory diseases such as COPD and obstructive sleep apnea (OSA) are also receiving quite a lot of attention with the growing obesity rate and aging population.
Pastron (NJR): In the past few years, the focus has shifted to products that save the hospital or medical facility money. Products, such as the No-Bite V suction catheter introducer for the oral airway from NJR Medical, are becoming very important. The equation is as follows: using the No-Bite V, if you can now deep suction a nasally contraindicated patient that you could not suction effectively before, then you can help prevent an intubation and save the hospital around $29,200 per incident.
RT: What's new in the airway management product market, and how have products and technology changed in the last few years?
Laderach: A lot of great technologies have come out in the past few years to specifically address and reduce ventilator-associated complications. We have seen better cuff materials, secretion management tools, antimicrobial coatings, and other biofilm removing tools for invasive airway devices. Also, there have been great advancements to help reduce the need for intubations with emergency CPAP, noninvasive ventilation, and PAP devices.
Pastron: The hottest new product out there is the No-Bite V. It's been classified as a best practice solution when nasal suctioning is contraindicated.
RT: How has the trend toward home care affected the airway management market? In what ways has this trend affected your company's product development?
Laderach: While there has always been an emphasis on accessibility and affordability in home care, we are noticing a stronger emphasis on patient adherence to their therapy at home.
Due to the changing landscape of penalties and reduced reimbursement, there is extra motivation to increase compliance at home to reduce the likelihood of readmission. The advancements in communication technology have helped improve this as patients are able to remotely send data about their therapy in real time to clinicians for constant follow-up, monitoring, support, and trouble-shooting.
We are seeing this a lot with home CPAP machines. Technologies that have been proven to help reduce infection and improve satisfaction for the mechanically ventilated patient in the hospital are becoming more prevalent in the home setting.
Pastron: With hospitals now losing reimbursement for readmissions within 30 days, we have seen huge increases in demand for products in the home care market. The demand has increased specifically with the more chronic respiratory disease patients, such as ALS, cystic fibrosis, multiple sclerosis, muscular dystrophy, Parkinson's, cerebrovascular accidents, and other muscular weakness diseases that affect the lungs.
In a nutshell, these are people who have deep suctioning needs, or who are at risk of aspiration in the home. Our goal has been to prevent readmissions by teaching the caregivers (sometimes nonmedical family members) how to perform pharyngeal suctioning in an easy, safe, and effective manner in the home.
RT: Tell us about your company's most recent products and what makes them innovative. How are your products responding to the need for healthcare facilities to reduce costs?
Laderach: One of our most innovative products is our Blom Tracheostomy Tube System with unique inner cannulas. This product offers easy and disposable subglottic suctioning and can allow for airflow in the upper airway with the cuff inflated.
The management and removal of secretions accumulating above the cuff of endotracheal and tracheotomy tubes has been proven to help reduce ventilator-associated events. This helps reduce costs not only by avoiding penalties by CMS, but also by shortening length of stay and the amount of days on mechanical ventilation. Along with our Blom System, we have a new line of noninvasive ventilation interfaces that help both the clinician and patient with overall better treatment.
Pastron: What makes the No-Bite V innovative is that users can insert a suction catheter orally in a well-lit, guided fashion, while preventing the patient from biting on the apparatus, or pushing it out with their tongue. This design feature makes the suction more comfortable for patients and saves time for the caregiver.
What's more, with the added ease of suctioning using the No-Bite V, the goal of preventing readmissions has been realized. Family members and caregivers who administer the No-Bite V have given us positive feedback. They say they not only can see a huge improvement in the patient's well-being, but they also see less bleeding and trauma when suctioning their loved ones. They sincerely appreciate this comfort factor.
RT: What does the future hold for airway management devices? What future technology trends can RTs expect to see in the next few years?
Laderach: I think we will continue to see advancements in the airway interface technology to help shorten the time on invasive ventilation and reduce the overall need for invasive ventilation. Devices will become "smarter" to make evidence-based methods of helping patients to come off of the vent sooner a more common occurrence.
We also can expect to see developments in devices from improved intubation, from better weaning and extubation strategies, to everything in between. This includes awareness and maintenance of proper cuff pressure, as well as enhanced secretion management. RT