As the number of chronic lung patients continues to grow, today's aerosol therapy products are providing high-quality, cost-efficient medication delivery.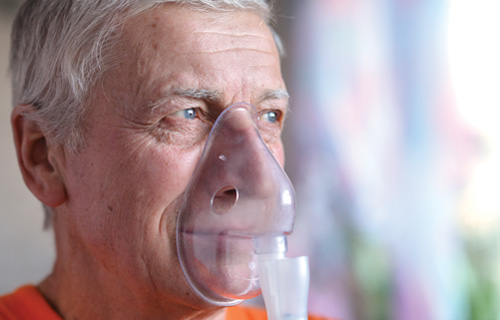 Medication delivery is a top concern for today's healthcare industry; across the country, asthma and COPD rates are growing. Currently, one in 12 Americans suffers from asthma1 and an estimated 15 million Americans suffer from COPD.2 As healthcare providers continually search for a balance between the sometimes competing forces of low costs and high-quality patient care for chronic lung patients, aerosol delivery is playing an important role in meeting their treatment needs.
In this issue, RT Magazine spoke with leading manufacturers in aerosol therapy technology to get their insight on the market, their newest products, and what's in store for the future. Contributing to this month's discussion were:
RT: As far as technological trends, what's new right now in your segment of aerosol therapy? Have these trends been driven by economics or clinical considerations?
Tracie Coletto (Philips): Patients want more freedom, and innovation is catching up. Portable mesh nebulizers are becoming smaller, more reliable, and easier to use, in order to meet rising expectations of faster therapy and options that enable them to be on the go.
Both clinical and economic conditions are spurring technological innovations in aerosol therapy. On the clinical side, patient compliance with inhaled drug therapy is a key driver in new innovations. Economic conditions, including changes in healthcare reimbursement, are driving a focus on cost reduction through total solutions designed to help reduce hospital readmissions.
Mark Fergason (Mercury): The newest trends we are seeing in our segment of the aerosol therapy market revolve around the growing acceptance of continuous nebulization as the preferred method of delivering aerosol treatments in the Emergency Department (ED). Furthermore, we are seeing continuous nebulization become a standard of care in the ED and EMS markets compared to traditional, intermittent aerosol delivery devices.
Joseph Killam (CareFusion): Due to increased costs of some metered dose inhaler (MDI) medications, we have seen caregivers express an increased interest in the delivery of aerosolized medications. Also, interest in offering shorter treatments times with positive results have increased the need for high efficiency nebulizers which can offer a large percentage of aerosol in the respirable particle size within a shorter time period.
Michael McPeck (Westmed): What's new right now is that we are seeing an uptick in the number of practitioners and facilities that are disappointed with conventional aerosol therapy and are looking to evolve to the next level. Westmed's focus in the aerosol drug delivery market segment has created and defined the "next level" with our Circulaire II High-Efficiency Aerosol Drug Delivery System by actually enhancing drug delivery.
We have deliberately departed from standard designs and have innovated with the quasi-closed system approach embodied by the "conserver principle," wherein a reservoir is used to prevent drug waste during exhalation and prevent room air entrainment that typically dilutes inhaled aerosol in other types of nebulizers. This results in a greater inhaled mass (dose) of drug in each breath and allows downward adjustment of treatment times where appropriate. This technology is competitively priced and provides both positive economic benefits in the form of lower acquisition prices and labor time-savings, as well as improved clinical outcomes, which actually have economic benefits of their own.
Ryan Raymond (Monaghan): Our company benchmark has always been to provide best practice, evidence-based clinical solutions that also offer economic value to our customers. We are thrilled to see providers shifting their focus to new technologies, products and services that ensure patients are treated effectively and remain healthy. In light of new healthcare reimbursement laws significantly impacting respiratory care, we have a great opportunity to thrive in this environment and partner with likeminded healthcare providers.
RT: Tell us about some of your company's most recent aerosol therapy products. What makes them innovative?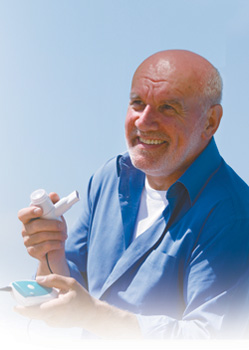 Coletto: The Aeroneb Go mesh nebulizer's On Q technology brings hospital technology into the home. Designed with convenience in mind, the device is ultra-lightweight, portable, silent and easy to set up and operate. The SideStream Plus high-efficiency jet nebulizer is breath-enhanced and features an easy-action inspiratory valve that helps boost drug delivery on inspiration and closes on exhalation, preserving medication and reducing waste.
Fergason: The EZflow and EZflow MAX product lines are Mercury Medical's unique addition to the continuous nebulizer market. Our products are disposable and include a highly efficient continuous nebulizer (MMAD of 2.2 µm) and an easy to assemble (eliminating the need for corrugated tubing which results in greater waste) and spill-proof design.
Killam: In 2013, CareFusion launched the Misty Fast small volume nebulizer. It delivers the same respirable mass of medication as our Misty Max 10 small volume nebulizer but in one-half the time. Reducing the time spent giving nebulizer treatments frees up time for the respiratory therapists to conduct other important activities.
McPeck: As one of the pioneers of continuous nebulization therapy, we have recently combined our 30 mL HiFlo MiniHEART continuous nebulizer with the Circulaire II system to provide a convenient and highly-effective, high-dose, continuous beta-agonist delivery system for the ED. Because the ED has evolved and become a hospital "gatekeeper" that prevents unnecessary admissions, it is now even more important that aggressive aerosol therapy is combined with other measures to rapidly and assuredly reverse acute exacerbations of bronchospasm in patients with asthma and COPD presenting to the ED. The HiFlo MiniHEART Circulaire II delivers high FiO2 and high doses of medication continuously and is even heliox compatible.
Raymond: We've just launched the market's only breath-actuated nebulizer and compressor kit. The Ombra tabletop compressor system offers efficient treatment times and effective performance for long-term treatments either at home, clinic, or the hospital. Each compressor kit includes two reusable AeroEclipse XL Breath Actuated Nebulizers (BAN) to ensure a best-in-class dosing regiment for a full year. The AeroEclipse XL BAN is approved for up to 6-months of single patient use and only creates aerosol in response to the patient's inspiratory maneuver. This on-demand therapy means less medication waste, higher drug delivery efficiency and safer treatment environments. The Ombra compressor kit tabletop compressor system puts patients in control of their therapy to help keep them healthy and out of the hospital.
Last year we released Aerobika Oscillating Positive Expiratory Pressure (OPEP) device, which is an innovative design that allows for effective airway clearance treatments with a device that's easy to clean and use in conjunction with aerosol treatments. Aerobika OPEP has recently been selected as a finalist for the Medical Design Excellence Award (MDEA) for 2014. This international award recognizes products that save lives, improve patient healthcare and changed the face of medical technology. We are very excited about the future applications for this device.
RT: In what ways has the aerosol therapy market been affected—perhaps even strengthened—by the growing emphasis on home therapy as a means of reducing hospital costs?
Coletto: The need to contain healthcare costs and reduce hospital stays has prompted manufacturers to create solutions that simplify treatment for patients. For example, a patient preparing to leave the hospital can be trained to use the Philips Respironics SideStream Plus nebulizer during their hospital stay and then continue use of the same device at home. Such options enable a seamless transition from the hospital to home.
Fergason: The key driver in the many changes to the aerosol therapy market are hospitals' increased focus on shortening patient's length of stay as well as, upon release, keeping patients from being readmitted. This will continue to strengthen the aerosol therapy market for a manufacturer who can partner with clinicians to provide cost-effective and clinically superior solutions.
Killam: The need for patients to be compliant at home for their prescribed aerosol therapies have aided in caregivers giving consideration to devices which can be used from hospital to home. Using the same device provides benefits by reducing additional training needed for the patient and caregiver.
McPeck: This is an emerging area of concern. We now think it is prudent for hospitals to recognize that home nebulizer therapy has not been as effective as nebulizer therapy rendered in the hospital because conventional aerosol devices do not function very well on marginally-performing compressors.
We recently learned, by way of a study conducted by Douglas Gardenhire EdD RRT FAARC of Georgia State University, that typical home air compressors perform very poorly regardless of the nebulizer they are used with, except when used with the Circulaire II Hybrid delivery system with the VixOne nebulizer. Gardenhire conducted in vitro testing showing that the Westmed Circulaire II Hybrid device, utilizing an elastomeric reservoir, outperformed 6 other contemporary nebulizers by delivering an average of 81% more medication in the same amount of time, only 6 minutes.
Of course, what this really means is that all those other nebulizers were delivering significantly less medication than the Circulaire II Hybrid because it compensates for the sub-optimal air compressor. This study shows us one small, but preventable, piece of the larger puzzle of what all needs to be done to prevent untimely readmissions of COPD and asthma patients. This is clearly not the only factor in preventing readmissions, but it is one that could quickly and easily be addressed by hospitals and physicians, once they understand the issue and prescribe the Circulaire II Hybrid for home use.
Raymond: Our products are designed to be safe and user-friendly in either the hospital or homecare environment. This approach has never been more important as hospitals and respiratory care are facing the impact of the Affordable Care Act and the addition of COPD to the list of penalized disease states for 30-day readmissions this October. The growing COPD patient population will require an increasing amount of respiratory care services, such as aerosol delivery or airway clearance treatments. The type of programs, products and education these COPD patients receive will impact long-term outcomes, readmission rates and their hospital's bottom line. We are working to build strong relationships with community providers and dealers outside of the hospital to make sure our products are readily available to patients.
RT: What impact have the Internet and direct sales to patients had on the market and the use of new aerosol therapy products?
Coletto: With the plethora of healthcare and device information readily accessible to patients via the Internet, patients have become more aware of the latest technology and treatment options and are more actively engaged in their therapy. Many patients use the Internet to find options that can assist them in living an active and healthy lifestyle, and may come prepared with that knowledge to speak with their care team about their treatment.
Fergason: Our sales model has always focused on the ability of our sales representatives to provide educational information and high-quality solutions directly to our clinical partners that lead to better patient outcomes. While we haven't been as affected by the ability for patients and clinicians to purchase aerosol treatment options over the Internet, we have found that today's clinicians and patients are much more educated about the various modalities (and clinical benefits) in the marketplace.
Killam: Patients are more educated and aware of what is available. Therefore, they are more willing to communicate their needs to their provider.
McPeck: We doubt whether anyone is firmly certain of where the Internet will take our society with respect to retail sales of medical devices. With respect to the market, it's probably too early to tell. However, there is already some evidence that people who are affluent enough to purchase directly will do so, provided that they perceive they are buying a high-quality product.
Raymond: The Internet has fundamentally transformed the way people discover, share, connect and shop for goods. Consumers are getting more health information and assistance online and we need to be aware of this shift and maintain a solid digital footprint. We are excited to see some of our non-hospital dealer partners capitalize on the shift toward online patient-direct commerce.
RT: Has your company developed relationships with hospitals or Accountable Care Organizations (ACOs) to build a service program around your product offerings?
Coletto: Yes, Philips Respironics has initiated a program focused on continuity of care from hospital to home. The program is designed to help reduce hospital readmissions as well as provide comfortable, effective treatment that allows patients to easily transition from hospital to home. Patients go home with the same high-quality technology they used in the hospital and the educational tools to make sure they use that technology correctly.
Fergason: Mercury Medical has been known for over 50 years as an organization that is dedicated to constantly seeking new and better ways to provide our customers with programs that emphasize improved patient outcomes, competitive pricing, and high-quality product offerings. Mercury Medical provides value propositions, which position our products to be both clinically and economically attractive to IDN and GPO purchasing organizations. This focus has led Mercury Medical to relationships with many groups that are seeking better patient outcomes and more cost-effective methods of delivering treatments.
Killam: CareFusion is interested in partnering with facilities to provide solutions that improve the quality of patient care.
McPeck: Yes, of course. We have been working with a number of IDNs and ACOs, as well as GPOs, to provide comprehensive aerosol delivery solutions for their particular set of needs and requirements. The Circulaire II system, and the family of aerosol delivery products built around it, is especially flexible and well suited to accommodate all the different aerosol drug delivery requirements that contemporary healthcare providers must be prepared to render. With that kind of versatility, and our usual competitive pricing, we can offer a number of different high-efficiency nebulizer solutions that are custom tailored to the kind of program the facility needs to provide.
Where appropriate, we even conduct a free "aerosol audit" to help determine the facility's range of requirements, optimize specific inhalation drug usage, economize on device types and inventory, and provide a labor-efficiency evaluation so that we can recommend a cost-effective program built on Westmed's extensive platform of aerosol drug delivery devices.
Raymond: Medical device manufacturers, hospitals and ACOs all share in the responsibility to deliver care more efficiently. Monaghan Medical Corp is focused on building lasting partnerships that help reduce hospital stays, emergency room visits, and offer customers the best total cost-of-care value.
Our corporate philosophy is built for the changing healthcare marketplace and we are working with providers to build customized programs to address a variety of respiratory conditions including asthma, COPD, and cystic fibrosis to name a few. There are significant financial incentives for providers who meet quality targets and keep patients out of the hospitals. We are setup to help hospitals and ACOs realize these savings with a full line of respiratory care devices backed by evidence-based research and guaranteed aerosol drug delivery.
RT: How have products and technology changed in the last few years and what do you anticipate will be the future for aerosol therapy? What can RTs expect to see in the next few years?
Coletto: We continuously analyze the needs of all of our customers (patients, the pharmaceutical industry, and clinicians, as well as the payers) and offer a portfolio of products to meet their needs. We design our products with the patient in mind—making them small, compact, intuitive and easy to use.
We are developing not only devices that are simple and easier to use but also adherence monitoring tools that couple with our aerosol delivery portfolio in order to meet the changing landscape of healthcare. These tools are valuable not only in the drug development and reimbursement environment, but also in the clinical environment, as they help clinicians to identify the reasons that patients may not be responding to therapy. The clinicians can then use techniques such as motivational interviewing and coaching to resolve these issues.
Fergason: Over the past few years, new studies have continued to shed light on the benefits of considering alternative methods of delivering aerosol treatments. This has driven the move away from the traditional small volume, intermittent therapy treatment to both the continuous nebulizer and breath-actuated nebulizer market. In the upcoming years, clinicians should continue to expect to see newer methodologies of delivering aerosol treatments more efficiently, but also developing products that allow clinicians to deliver aerosol treatments along with other treatment modalities. This trend will be driven not only by clinical-based considerations, but also from the hospital's ability to maximize their clinician's efficiency by delivering multiple treatments to patients at the same time.
Killam: The future of aerosol therapy will include improved delivery of medication and shorter treatment times that will be able to be used by patients across the entire care continuum. Clear and concise patient education materials will also be necessary to help to minimize confusion and increase compliance to the prescribed therapy.
McPeck: Well, first, we believe the plastic disposable pneumatic jet nebulizer is firmly entrenched in hospitals and home care due to economic constraints. However, in many respects, we have not seen a great deal of innovation with these devices. Most of the small volume nebulizers are very similar looking and performing, and there's only so much performance that you can squeeze out of a nebulizer regardless of whether it is breath-actuated or breath-enhanced. That's why Westmed has concentrated on improving the delivery system, rather than the nebulizer per se, so that a greater percentage of the nebulizer's output can actually be inhaled by the patient, rather than wasted. That's where we focus because that is where the greatest gains in efficiency and overall performance can be made.
Second, for the future, we expect to see a greater emphasis on simultaneous airway clearance and aerosol therapy. The current devices have room for improvement and we believe we can address this with some exciting new technology that we hope to unveil later this year.
Raymond: Monaghan Medical Corporation has a long-standing reputation for focusing on research and development with an eye toward superior clinical outcomes and the best economic value for our customers. We continue to explore new technologies to meet market demand and support the respiratory care profession with products that offer evidence, clear value proposition, and ensure the best care for patients. RT
___________________________________________________________________________
For further information, contact [email protected].