Covidien
800-722-8772
www.covidien.com

The Nellcor Bedside Respiratory Patient Monitoring System from Covidien incorporates the latest Nellcor digital signal processing technology for accurate, reliable readings even during low perfusion and other forms of signal interference. The patient monitoring system is also cleared as a motion-tolerant bedside pulse oximeter that is compliant with ISO 80601-2-61. An easy-to-read, graphical user interface and state-of-the-art color touch screen provide clinicians with easy access to the critical information they need for patient care. (See image above.)
---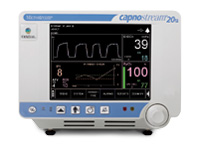 Covidien
800-722-8772
www.covidien.com

The Capnostream 20p Patient Monitor with Microstream technology from Covidien provides an accurate, continuous view of ventilation adequacy on intubated and nonintubated patients, from neonate to adult. The new Capnostream 20p monitor, with the Apnea-Sat Alert feature, alerts caregivers to repetitive patterns of apneas and oxygen desaturation, revealing a more complete picture of a patient's respiratory status.
---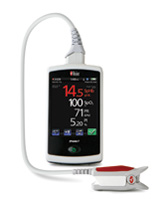 Masimo Corp
800-326-4890
www.masimo.com
Masimo's Pronto-7 is designed for quick and easy noninvasive spot-checking of hemoglobin (SpHb), SpO2, pulse rate, and perfusion index at the point-of-care. The palm-sized, handheld monitoring device can measure hemoglobin in less than 1 minute—without needles, laboratory analysis, blood contamination, hazardous medical waste, and patient discomfort associated with traditional blood tests. The Pronto-7 puts accurate noninvasive hemoglobin spot-check measurements into any clinician's hands, in various care settings.
---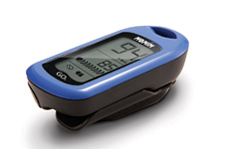 Nonin Medical Inc
800-356-8874
www.nonin.com
For patients who could benefit from a home oximeter, Nonin Medical Inc offers the GO2, an accurate and easy-to-use finger pulse oximeter. The GO2 uses Nonin's PureSAT technology and is a noninvasive way to measure saturation level and heart rate. The GO2 helps patients manage chronic diseases such as asthma or COPD or adjust their supplemental oxygen use to meet their daily activity levels.
---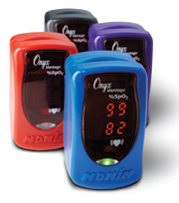 Nonin Medical Inc
800-356-8874
www.nonin.com
Nonin Medical Inc's Onyx Vantage 9590 finger pulse oximeter has PureSAT technology and is able to measure Spo2 and pulse rate via fingers, thumbs, and toes. The Onyx Vantage 9590 provides versatility where fingers are not available for readings or there is difficulty gaining readings on a finger such as with pediatric patients, and even works on patients with darker skin tones and where low perfusion is a challenge. The device has been tested for use in motion.
---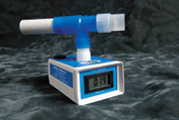 Providing a simple, noninvasive way to measure carbon monoxide poisoning, Breathe E-Z Systems Inc's CO Sleuth is a carbon monoxide breath test, designed for patients enrolled in a smoking-cessation program. This instrument has a sensitivity of 95% and a specificity of 98%, and is equipped with a hydrogen null to prevent false readings. The CO Sleuth provides visual proof of the dangerous CO levels found in the lungs of smokers, who often do not realize carbon monoxide poisoning is a dangerous side effect of smoking cigarettes. The testing shows the patient a reduction of carbon monoxide poisoning in the lungs as the patient gives up smoking. 800-490-5061; www.testbreath.com 
---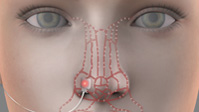 As an alternative to traditional fingertip pulse oximetry, Xhale Assurance Inc offers the Alar One-Sense Sensor. The Alar One-Sense fits comfortably on the nasal ala, the fleshy part of the side of the nose, a unique pulse oximetry monitoring site with a rich vasculature and multidirectional blood flow fed by both the external and internal carotid arteries. The Alar Sensor offers earlier detection: faster reflection of oxygen-saturation changes; and dependable monitoring: better perfusion, consistent signal, and less prone to drop out. 855-743-4589; www.assurance.xhale.com