For postsurgical patients receiving pain medications, effective respiratory monitoring is critical. As a result, more and more facilities are expanding their use of capnography to ensure patient safety and prevent adverse events.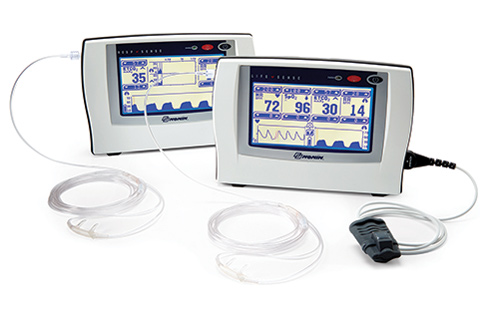 In the last year or so, the Joint Commission, Centers of Medicare and Medicaid Services (CMS) and patient safety advocacy organizations such as the APSF, ISMP, and others, have recommended continuous monitoring of post-operative patients receiving pain management medications, such as opioids and PCAs. At the same time, a large number of hospitals have begun to expand the use of capnography outside the operating room.
RT Magazine spoke with Covidien and Nonin Medical — leading manufacturers of capnography equipment — about these developments, the value of capnography monitoring to patient safety, and what's in store for the technology in the future. Contributing to the discussion were:
Keith Morrison, senior product manager, Microstream Capnography, Covidien; and
Laurel Wichman, product marketing manager, Capnography, Nonin Medical.
RT: Is the trend we're seeing for hospitals to expand their use of capnography outside the OR related mostly to the CMS, Joint Commission, and other organizations' recommendations or do you see other factors contributing to the technology's increased use?
Keith Morrison (Covidien): At Covidien, we believe there are a number of factors that play into the greatly expanded use of capnography outside the OR, and specifically for post-operative patients receiving pain management medication. A growing body of evidence suggests that patient monitoring strategies encompassing respiratory rate, pulse oximetry and capnography may have the potential to reduce the likelihood and severity of postoperative respiratory compromise, and potentially even save lives through earlier detection.1-4 The current guidelines and recommendations are definitely playing a very large role, but there is also an increased awareness of the patient safety benefits and product enhancements that have contributed to this increasing trend as well.
For example, post-operative monitoring has been greatly improved thanks to new alarm management features incorporated into Microstream technology. These features significantly reduce the number of non-actionable alarms and create a system that makes capnography easy to use while also minimizing alarms.
The Joint Commission, CMS and patient safety advocacy organizations have played a significant role in the increase of continuous monitoring of end-tidal CO2 (etCO2) in hospitals. These organizations are bringing to light the demonstrated safety aspects continuous monitoring offers, specifically for patients receiving pain management medications such as opioids, as well as for patients at risk for respiratory compromise. Covidien believes that it is no longer an issue of "should we monitor," but instead a discussion of "we are monitoring" or "we know we need to start monitoring."
Laurel Wichman (Nonin): In some cases it may be driven by the Joint Commission's recommendations. In other cases we've seen it's because the hospital had an adverse event or near-miss type of event that prompted the action to purchase capnographs.
There also have been several articles published in the past few years regarding use of capnography during opioid pain management, so that has also played a role in increased awareness of the benefits of capnography for this patient population.
RT: In what ways do you believe that adding capnography to monitor these patients' results in a safer, more secure practice over pulse oximetry alone?
Morrison: Pulse oximetry is an important technology and is critical to monitor, but oximetry is a measurement of the patient's oxygenation; capnography is a measure of the patient's ventilation. These are two very different things.
For example, capnography is the earliest indication of evolving respiratory compromise when a patient becomes apneic or is shallow breathing. This is because the waveform will immediately show the change. Studies show waveform changes occur minutes earlier than pulse oximetry monitors alert clinicians that the patient suffers hypoxemia.
Further, when patients are provided supplemental O2, it raises the arterial oxygen content and keeps it at a higher level for several minutes after the patient has stopped breathing. Therefore, continuous monitoring of etCO2 in patients on supplemental O2 is crucial to properly monitor adequacy of ventilation in the respiratory cycle to help ensure they are not headed toward respiratory compromise.5
Wichman: The simple explanation is that pulse oximetry—which has used in this application for many years—is a measure of blood oxygenation, not a patient's ventilation. It takes longer for the SpO2 to drop to a level that will trigger an alarm, particularly if the patient is receiving supplemental O2, which is very common. The response time could be as long as 3 minutes or more.
With capnography you are not only measuring the patient's exhaled CO2, but also their respiration rate. If the patient stops breathing or has slow or diminished breaths you will get an alarm very quickly. So, overall, capnography is much more responsive to a change in a patient's ventilatory status than pulse oximetry.
RT: How can capnography help reduce the possibility of respiratory compromise as a result of over-sedation for these patients?
Morrison: Respiratory compromise is a significant issue that is common, costly, and often deadly. Recent data has shown that nearly 30% of post-operative patients and up to 7% of all Medicare patients will suffer from respiratory compromise. By 2019, the cases of respiratory compromise are expected to rise to 31% of all Medicare patients. The associated costs from these issues will surpass $37 billion by 2019.
A great deal of that cost is due to the fact that patients with respiratory compromise on the general care floor will be in the hospital for 7 days longer and those in the ICU for almost 3 days longer. In addition, the patients with respiratory compromise on the general care floor are 29 times more likely to die compared to general care floor patients without respiratory compromise. The issue of respiratory compromise is very real and growing quickly. Actions need to be taken now to help address this issue.
Studies show that capnography helps clinicians reduce the frequency and severity of respiratory compromise because it is the earliest indicator of inadequate ventilation. By alerting clinicians sooner, they can provide intervention earlier. In these studies, the number of severe events, need for ICU admissions and cost of care were all reduced. Using the etCO2 value, and often more importantly, the waveform, monitoring the adequacy of ventilation helps clinicians recognize deteriorating patient conditions earlier.
Wichman: Capnography will not prevent a patient from respiratory compromise, but because of the fast response time it will certainly alert a clinician before it becomes a serious or adverse event.
RT: Tell us about the capnography products your company offers. How are your products responding to the demand for post-OR pain management monitoring, while still being cost-effective for hospitals to implement?
Morrison: Studies have shown that capnography can save millions of dollars by preventing events and more importantly, saving patient lives.1-4 Today, Microstream technology is available in a wide range of monitors, including Covidien standalone and handheld units, as well as within Covidien OEM partners' multi- parameter monitors.
The flagship standalone monitor from Covidien is the Capnostream 20p bedside monitor. This monitor incorporates both market-leading Microstream capnography and Nellcor pulse oximetry technology. The Capnostream 20p monitor also includes all of our available Smart Capnography algorithms designed to improve monitoring in post-operative sedation patients.
Covidien incorporates Microstream technology in over 140 monitors from nearly 40 original equipment manufacturers (OEMs). For example, CareFusion has Microstream technology integrated into their Alaris Guardrails PCA pumps. Guardrails technology has the ability to turn off the PCA pump when a low respiratory rate is detected—ensuring additional pain medication is not delivered. As a result, patient safety may be increased, due to reducing the chance for respiratory depression as a result of over sedation.
The patented FilterLine sampling lines from Covidien are an important aspect of Microstream capnography, and this includes the Uni-junction sampling port for both oral and nasal sampling. Uni-junction technology permits upward or downward pressure of the breath at the junction, allowing only the source of breath with the greatest pressure to be sampled. As a result, better sampling – for both nasal and mouth breathers – can be captured. Additionally, the Uni- junction design allows for oxygen delivery without attenuating the waveform.
Wichman: Nonin Medical sells the RespSense Capnograph and the LifeSense Capnograph/Pulse Oximeter. We have seen a marked increase in demand from hospitals for capnography monitoring in both the post-operative recovery areas and general wards where PCA pumps are in use post-operatively. Nonin monitors are very cost-effective solutions for hospitals because they are priced very competitively and do not require proprietary cannulas as some manufacturers do, which can be very expensive.
RT: What factors do you recommend hospitals consider when deciding to purchase or upgrade their capnography equipment?
Morrison: There are many factors to consider when purchasing capnography monitoring equipment. It's important to choose technology that can be used across the patient population and in multiple areas of care. Technology that can be used with all patient populations is ideal, from neonates to adults, as well as both intubated and non-intubated patients. Standardizing the type of monitoring used across the hospital can help ensure that the clinical teams using the monitors are familiar with the technology.
Additionally, it is beneficial to implement a technology that will easily integrate into existing monitors, such as multi-parameter monitors, that are already in place in the hospital.
Not all capnography monitors or technologies are the same. When assessing capnography equipment, consider that some monitors require individual patient calibration or zeroing each time the monitor is used with a new patient. Likewise, some capnography monitors do not have integrated alarm management technology and are affected by other gases, such as oxygen, anesthesia gases, helium, and nitrogen, potentially impacting accuracy readings.
Importantly, Microstream technology implements integrated alarm management technology. Microstream technology does not need individual patient calibration and has integrated Smart Alarm Management algorithms that are proven to help reduce non-actionable alarms. Additionally, only Microstream technology uses a very narrow infrared beam that is CO2-specific, unaffected by other anesthetic gases that may be present.
Lastly, the quality of sampling lines that connect to the capnography monitor is important. The signal the monitor acquires is only as good as its ability to sample. Only FilterLine sampling lines that are used with Microstream monitors sample from both nares and the mouth, while also delivering oxygen up to 5 LPM without sample degradation. Other designs may only sample from one side of the nose, which can cause inaccurate readings in mouth breathers or a patient where one side of the nose is blocked.
There are many factors that hospitals should consider when determining the best technology. With thorough research and an evaluation of existing equipment, hospitals can make an educated purchase that will best fit the needs of patients and staff.
Wichman: Acquisition cost and cost of disposables are both very important. However, because of the wide range of stakeholders and clinical users in the hospital setting, ease of use and intuitive operation are extremely important. Also, depending on the hospital application factors to consider are whether the monitor may be pole mounted, portability, battery life, warranty and support from the manufacturer. More information about this can be found in this September 2013 RT Magazine article, titled: "Selecting Capnography Monitors for a Multi-Department Community Hospital."
RT: How have products and technology changed in the last few years and what do you anticipate will be the future for capnography?
Morrison: Covidien is always working on new ways to enhance Microstream capnography monitoring technology and sampling lines. The greatest technology changes over the past few years have been in the algorithms the monitors use to provide expanded functionality and ease-of-use.
The Integrated Pulmonary Index algorithm (IPI) was developed to help clinicians more easily monitor a patient's complete respiratory status. IPI incorporates four real-time respiratory measurements – etCO2, respiratory rate, pulse oximetry and pulse rate – into a single number that represents an inclusive respiratory status. IPI is displayed on a scale from one to 10, with 10 indicating a normal respiratory status. For instance, if a patient's IPI moves from 8 to 4, this patient may be approaching respiratory compromise and require escalated intervention. Helpful in busy clinical environments where workflow efficiency and accuracy is critical, IPI provides clinicians with a simple and comprehensive indication of respiratory status and trends, promoting early awareness of changes to a patient's breathing.
Alarm fatigue is widely considered to be one of the greatest issues for the clinical staff in post-op general care floor monitoring. To address this clinical concern, Microstream capnography monitors are designed with the Smart Alarm Respiratory Analysis (SARA) algorithm, with Smart Breath Detection, which recognizes and reduces clinically insignificant respiratory alarms, while accurately reflecting the patient's condition.
In the Capnostream 20p monitor, the new Apnea-Sat Alert algorithm is integrated to track and report apneas per hour and oxygen desaturation, displayed in real time on the monitor home screen. Repetitive apneas and desaturations may characterize an undiagnosed cardiopulmonary condition, and identification could provide information that is critical for the patient's course of care. Apnea and oxygen desaturation data is also available in on-screen trend reports, print outs and through data export.
Another major concern in post-operative monitoring is education, as well as the ability to interpret capnography waveforms. If the clinician is less familiar with interpreting the etCO2 waveform, he/she may miss deteriorating conditions of the patient. It is extremely important that the clinician can easily interpret the etCO2 waveform. Covidien provides Professional and Clinical Education (PACE), online clinical and non-clinical education modules related to the use of etCO2 monitoring with non-intubated and intubated patients in various clinical settings.
As a whole, enhancements in capnography are heading in the direction of simplifying the technology by making it easier for clinicians to interpret. This will potentially lead to greater adoption and increased patient safety.
Wichman: End-tidal CO2 detection technology has changed very little in many years, however, the monitors have gotten smaller and more suitable to multiple use areas in the hospital. The next wave of development is likely to be in the area of connectivity as it pertains to sending patient data to hospital EMR systems. Nonin Medical is fully committed to the area of capnography for hospital and non-hospital applications and will continue to develop products in this category. RT
___________________________________________________________________________
For more information contact [email protected].
___________________________________________________________________________
References:
Maddox RR, Williams CK, Oglesby H, Butler B, Colclasure B. Clinical experience with patient-controlled analgesia using continuous respiratory monitoring and a smart infusion system. Am J Health Syst Pharm. 2006;63(2):157-164.

Major complications of airway management in the UK: results of the 4th National Audit Project of the Royal College of Anaesthetists and the Difficult Airway Society. Part 2 Intensive Care and Emergency Departments. British Journal of Anaesthesia. doi:10.1093/bja/aer059.

 Bhananker SM, Posner KL, Cheney FW, Caplan RA, Lee LA, Domino KB. Injury and liability associated with monitored anesthesia care: a closed claims analysis. Anesthesiology. 2006;104(2):228-234.

Moore, P. The Case for Capnography: It Saves Lives. RT for Respiratory Therapy Decision Makers. May 13, 2013. https://rtmagazine.com/clinical/18949-the-case-for-capnography-it-saves-lives.

Fu ES, Downs JB,Schweiger JW, Miguel RV, Smith RA. Supplemental oxygen impairs detection of hypoventilation by pulse oximetry. Chest. 2004 Nov;126(5):1552-8.