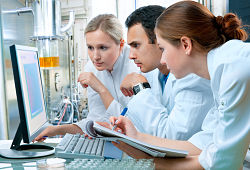 The University of Louisville has launched a research trial to study an investigational medical device designed to aid patients with emphysema by shutting off the diseased part of the lung, according to a news release. UofL is the only site in Kentucky among 14 nationwide testing the device.
The Zephyr Endobronchial Valve (EBV), manufactured by Pulmonx, is a one-way valve that blocks off diseased lung sections to inhaled air but allows trapped air already inside the area to escape. This enables the collapse of the diseased part of the lung, allowing for the healthier parts of the lung to expand.
Emphysema, a type of chronic obstructive pulmonary disease, is an ongoing, progressive disease of the lower respiratory tract in the lungs. It is a seriously disabling disease with the potential for major complications and is often eventually fatal.
The randomized study, known as the LIBERATE study, is investigating the safety and effectiveness of the EBV for treating emphysema symptoms as compared to a current standard medical therapy program alone. Tanya Wiese, DO, director of the Interventional Pulmonary Program, is principal investigator of the UofL study.
"The Zephyr EBV's novel mechanism of action shows promise to help the healthy parts of the lung expand and reduce the effect of the disease," Wiese said. "While not a cure, we believe this device could bring relief and improved quality of life to our patients with emphysema."
The EBV can be placed by a doctor in a diseased section of the lungs using bronchoscopy, a procedure to access the lungs using a small tube with a camera on the end. With bronchoscopy, a physician can reach the airways in the lung by passing the tube through either the mouth or nose so invasive surgery is not required.
Enrollment in the study is expected to be completed by the end of 2015 and patients will be followed for three years.