Vitalograph Inc
800-255-6626
www.vitalograph.com
Vitalograph Inc offers the In2itive handheld spirometer, which has all the power of a research-based system in a very portable package. With a memory capacity of 10,000 tests and utilizing a color touchscreen, it can connect to a computer for reports or to the Spirotrac V enterprise software, or can print directly to an external office printer via a convenient charging/printing cradle. (See image above.)
---
Vitalograph Inc
800-255-6626
www.vitalograph.com
The latest version of Vitalograph Inc's Spirotrac V PC-based Spirometry Software provides advanced spirometry, pulse oximetry, ambulatory blood pressure, ECG, and more. The Pneumotrac flow device is coupled with PFT software featuring all spirometry tests including seamless, wizard-based 6-minute walk, mannitol, exercise, and methacholine challenge protocols. The software is capable of supporting add-in Bluetooth EGC, automated blood pressure, pulse oximetry, and Bluetooth weight scale. All Vitalograph spirometers meet the 2005 ATS/ERS guidelines for both accuracy, precision, and test performance.
---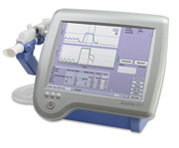 ndd Medical Technologies
877-904-0090
www.nddmed.com
ndd Medical Technologies' EasyOne Pro is a portable single breath DLCO device allowing physicians to provide their patients with prompt, accurate diagnosis and treatment. The EasyOne Pro performs PFTs in under 30 minutes all in one square foot. Features include single breath CO diffusion (DLCO), spirometry, flexible EMR capabilities, no warm-up time, challenge testing, no expensive service contracts, along with a high-resolution color touch screen. With ndd's TrueFlow technology, there are no moving parts, no codes to enter, and no disposables to calibrate. The ultrasonic flow measurement is independent of pressure, temperature, and humidity.
---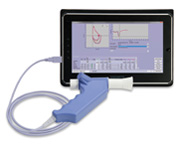 ndd Medical Technologies
877-904-0090
www.nddmed.com
A complete spirometry solution that uses the power of your PC, laptop, or tablet, ndd Medical Technologies' Easy on-PC provides point of care testing for fast, accurate, and easy diagnosis. The Easy on-PC offers challenge testing, pediatric incentives, and inspiratory and expiratory real time curves. Essential features of the device include flexible EMR capabilities, trending, selectable predicted values and interpretation, automated quality control, and quick testing. The device also has multilingual capabilities.
---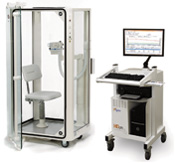 nSpire Health
800-574-7374
www.nspirehealth.com
Using 100% digital signal processing to eliminate drift and interference, nSpire Health offers the HDpft 4000 with N2, a high-definition pulmonary function plethysmograph with nitrogen washout testing. iFlow technology provides up to 10 times the accuracy of the previously accepted standard. nSight software simplifies testing processes, shortens procedure times, automates quality assurance, and delivers flexible real-time trending and instant configurable reporting.
---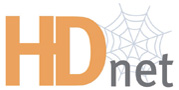 nSpire Health
800-574-7374
www.nspirehealth.com
For hospital information systems (HIS) and electronic medical records (EMR), nSpire Health offers the HDnet customized interfacing solution. HDnet retrieves ADT and Order HL7 messages into the nSight SQL database. Therapists perform tests as the incoming orders appear, optimizing workflow. Once complete, tests can be moved into a physician's inbox for review and finalization. Then the test flows back to the medical record software via a fully configurable outbound HL7 results message. HDnet supports most major image formats as well, including PDF and TIFF.
---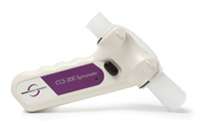 Benson Medical's CCS-200 Computer Controlled Spirometer produces accurate and repeatable spirograms for use in NIOSH-compliant programs. The single-use disposable mouthpiece mounts easily and securely in the handle, and is removed after testing with the press of a button. The CCS-200 uses state-of-the-art ultrasonic sensors to ensure accuracy with every maneuver as well as over the lifetime of the instrument. The included database software provides instant recall of past spirograms for reporting and trend analysis. One-year warranty. 612-827-2222; bensonmedical.com
---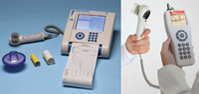 Equipped with a number of components, Futuremed's Discovery-2 simplifies spirometry testing in virtually any setting. A large real-time display of flow/volume and time/volume graphs, paired with quality control messages, helps the technician ensure test quality. Reports can be printed internally in seconds, sent directly to a standard printer, or transferred to software on PC. Hundreds of records can be stored for future use. Futuremed also offers Spiropalm, a handheld alternative that also displays real-time graphs. Both devices meet ATS and occupational standards. 800-222-6780; www.futuremed.com
---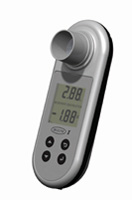 Specifically designed for situations where low cost precision spirometry measurements are required, Micro Direct offers the new Micro I Spirometer. The Micro I Spirometer offers a choice of four indices that can be displayed along with percent predicted and post-bronchodilator comparisons. The device is extremely lightweight and portable, making it suitable for hospital outreach clinics, bedside screenings, health fair screenings, and other situations where remote testing is required. The Micro I Spirometer features a large backlit graphical display and flat touch-sensitive keypad. 800-588-3381; www.mdspiro.com