Fractional exhaled nitric oxide measurement is a safe, reliable diagnostic of airway inflammation for asthmatics, but the technology is typically underused in clinical settings.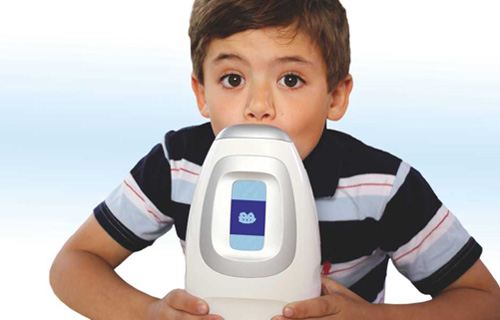 According to the Centers for Disease Control and Prevention (CDC), 27 million Americans carry an asthma diagnosis; 10 to 12 years ago, that figure was 16 million. The numbers have continued to spiral upward, baffling scientists as they try to pinpoint causes.
Some scientists attribute the rise to global warming, while others cite a link to low Vitamin D levels. Still others claim a strong genetic component or environmental factors. The rates are escalating, even in geographic areas without pollution. Adding comorbid illnesses such as smoking and obesity to the equation further increases the risk of serious disease and/or early death exponentially.
The United States experiences 3,500 deaths every year that are attributed to asthma. The disease has financial implications as well; Americans make 2 million visits to the emergency department, costing the economy $52 billion annually. Regardless of cause, specialists are attempting to find the most effective, client-specific treatment for all populations from pediatric to geriatric in an effort to reverse the rising trend.
Michael B. Foggs, MD, president of the American College of Allergy, Asthma and Immunology (ACAAI), said, "There are few diagnoses that are more heterogeneous [than asthma] with variations of chronic inflammatory disease. So individual treatment is essential."
In most cases, the first line of treatment for all patients is inhaled corticosteroids (ICS), although dosing differs, depending on the population. "Certain classes of drugs for geriatric patients have side effects, especially those that are cardio stimulatory," he explained. "We encourage PCPs to send these patients to an asthma specialist, such as a board-certified allergist, if things are not going perfectly."
Foggs also noted that PCPs are often not attuned to the potentially serious consequences of asthma attacks. "One attack can take you out," he asserted. "We stabilize the patient and send them back to the PCP. We don't see the patient again until there is a problem."
Moreover, when a specialist sees an asthma patient, there is a 77% reduction in hospitalizations and a 90% decrease in emergency department visits, according to insurance company data, Foggs said. A specialist also can effect millions of dollars in cost savings and extremely high patient satisfaction, he added.
Spirometry Shortcomings
When patients present with an asthma diagnosis, Mani Kavuru, MD, director of the Division of Pulmonary and Critical Care Medicine at Sidney Kimmel Medical College at Thomas Jefferson University, considers a number of factors before devising a treatment plan.
He evaluates "clinical setting for acuity of illness and speed of decision-making, and the presence of comorbidities" and takes a spirometry reading to assess airflow obstruction. "I use this test to assist in diagnosis and to gauge the physiologic severity of disease," he said, noting that actual severity and need for healthcare is not the same as physiologic severity.
While many physicians have a spirometer, understanding the values and using the device properly sometimes pose a challenge. Spirometry expiratory airflow measures and times volumes (FEV1 and FVC) are crucial variables in determining obstruction. Kavuru explained that the measured values are compared with predicted values, based on gender, height, and age.
While spirometry directly measures airflow obstruction, it is an indirect measure of disease activity in asthma. "The leap of faith is that airway inflammation comes with airflow obstruction, but this may not be entirely true," said Kavuru, who is also director of the Jane and Leonard Korman Lung Center at Thomas Jefferson University. "Hence the desire for alternative measures, such as exhaled breath analysis.
"The current paradigm is that inflammation is part of the definition for asthma and is crucial in most asthmatics. FeNO (fractional exhaled nitric oxide) measurement is perhaps the best direct and safest noninvasive measure of airway inflammation," Kavuru said, noting that the American Thoracic Society guidelines recommend using FeNO in asthma management.
He added that FeNO could predict the likelihood of steroid responsiveness, bronchodilator response, and airway hyper-responsiveness to methacholine,1 perhaps more consistently than spirometry.
Kavuru recommends more frequent and aggressive monitoring for newly diagnosed patients, as well as for those with poorly controlled disease and higher risk patients, ie, those who frequently visit the emergency department or are hospitalized, or have comorbidities, unavoidable triggers, or difficult psychosocial circumstances.
"I strongly recommend that office visits include a spirogram; availability of FeNO concurrent to a spirogram would be complementary and advantageous," he said. "Patient-related factors need to be considered in arranging follow-up, so there is no uniform formula as to intervals. I suggest twice a year for a very stable patient, but as often as once a month or two for a poorly controlled 'frequent flyer.'"
Additionally, Kavuru pointed out that patient understanding of self-management and compliance/adherence with trigger avoidance and medications is critical for asthma patients. "The patient needs to be 'self-sufficient' and have a plan for the 'what ifs' of daily life," he said. "Physicians can inspire patients and engender confidence and a can-do attitude. A written plan is useful for some, but not all patients. Demonstration by a provider is very helpful."
Feno May Change Treatment Options
Asthma and allergy specialists have known about the relationship between exhaled nitric oxide and severity of asthma-related illnesses since the early 1990s, according to Glenn Crater, MD, FCCP, vice president, Global Clinical Development and Medical Affairs for Aerocrine Inc. "Everyone produces nitric oxide. We need it to keep our blood vessels open, but patients with asthma and allergies produce more. When levels are high, epithelial cells that line the bronchial airway produce more [nitric oxide] in response to breathing in allergens. Inflammation causes airflow obstruction and 'twitchiness' of the airway," he said.
Crater cited a 2014 study2 in which researchers studied 50 patients with established asthma at an outpatient specialty clinic. Patients underwent clinical examination, spirometry, and symptom assessment using the Asthma Control Test; five clinicians evaluated inflammation, using FeNO. Treatment plans were based on assessments. Following FeNO, those treatment options were changed in one-third of subjects, ie, medication doses were adjusted or discontinued. Moreover, the use of FeNO resulted in a cost reduction of $629 per patient annually.
Aerocrine manufactures the NIOX MINO, a handheld device the size of a football with a screen for entering patient information. The patient takes in a breath free of nitric oxide and breathes gently into the mouthpiece as if blowing on a bowl of hot soup. The patient exhales for 10 seconds, and within 90 seconds the device produces the measure of nitric oxide in the patient's breath, thus determining the level of inflammation in the airway.
Crater explained that truck exhaust contains 400 to 500 parts per billion (ppb), while the normal human breath has 10 to 20 ppb. "We use technology that has an electrochemical sensor," he said, noting that the device requires no calibration.
Aerocrine's installed base is 2,138 NIOX MINOs across the United States, according to Crater. "That means that patients can get their exhaled nitric oxide level tested as part of their routine asthma care at 2,138 offices, and with even more physicians, as there are more than one doctor in those offices."
Increasing Compliance
In addition to more accurately evaluating airway inflammation and determining appropriate medication options, the use of FeNO can help clinicians assess compliance. Noncompliance is one of the top reasons to use FeNO, asserted Crater. "It gives the clinician an objective way to approach the matter. It's been very valuable in my experience," he said.
Crater reported that, when asked, one of his patients claimed he had been using his inhaler. However, after reviewing pharmacy records, Crater discovered that this was not the case. When he used FeNO on the patient, the findings showed an elevated amount of nitric oxide. "I told him his asthma was not controlled so we needed to double his dose of inhaled corticosteroids or he needed to do a better job of taking his meds. We had an objective discussion in a nonconfrontational way," he said. "If the pharmacy doesn't have the information available, FeNO is a good way to check compliance quickly."
Spirometry still remains one of the basic tools used to evaluate allergy and asthma patients, even though adding FeNO allows the clinician to witness changes in lung function as a result of inflammation due to bronchoconstriction. "It becomes part of routine management and doesn't replace spirometry, which tells you the severity of asthma," Crater said. "FeNO tells the inflammatory level, rather than waiting for the lung function to change. Inflammation could be percolating, making the airway more likely to have a bronchospasm. For example, if someone blows perfume or smoke at a person, it could trip the person into bronchospasm. If the inflammation is under better control, the insult would not happen or would not have a great effect."
The NIOX MINO is currently available only in clinical settings, but Aerocrine is exploring a way to bring this technology into the home in hopes of increasing compliance, reducing medical costs, and improving patient response to treatment.
Useful but Underused
Foggs acknowledged FeNO as a useful modality for making a diagnosis and monitoring asthma. He admitted that the arguments for FeNO are valid and that the tool can preempt asthma flare-ups.
"This can be a useful tool, as recognized by most societies for managing asthma, including ours. But it's not a standard of care. The average primary care physician does not have this," he said. "In fact, the average PCP does not even use spirometry. Many primaries don't even own one. And for the average PCP, pediatrician, or practice physician who does own one, they often don't use it." He cited calibrating the machine and allocating time to train personnel to operate the machine as specific obstacles.
Rather than use a tool like FeNO or spirometry, a PCP will ask the patient about wheezing and shortness of breath and prescribe an albuterol inhaler. "They make an empiric diagnosis without diagnostic tools. This compromises care and is a violation of international guidelines," said Foggs. "We all agree spirometry is a good tool. You can use it for children 5 years and older."
Failure to monitor changes in lung function could result in exacerbation, according to Foggs. "Two exacerbations a year could be associated with decline in lung function." In cases like this, spirometry is necessary and the addition of FeNO could help dictate treatment. "Asthma specialists are seeing a skewed population and can justify the cost of the device. You'll do anything you can do to help the patient manage his care," he added.
Foggs referred to the 2011 study1 by Grainge et al, which supports the argument for increasing compliance. "[Patients] don't appreciate the need to prevent exacerbations. It's a hard sell. Some patients can't come to grips with needing medication."
To emphasize the importance of taking medication in the right dose and at the prescribed intervals, Foggs compares the lung to a burn victim. When a patient is doing well, the lung looks like it has a first-degree burn. "If the patient develops wheezing and shortness of breath, the lining of the lung looks like it has a second-degree burn. Once chronic problems develop, it's like a third-degree burn. Our aim is to wipe out the burns in the lung lining. This illustration allows patients to justify taking medication. They visualize the burns and get some appreciation.
"If you eliminate episodes of wheezing, there is less damage to the airways. Some patients have a false sense of security when they have a good response to their inhaler. They might endure four or five episodes while on the inhaler. But every time the airway clamps down, cumulative damage occurs and is serious," Foggs added.
When it comes to treating asthma patients, the most important clinical consideration is achieving optimal control that hopefully leads to a normal lifestyle for the patient. "Focus is on functional status as well as 'normalizing' lung function and eliminating inflammation," said Kavuru.
The use of FeNO in conjunction with spirometry can help clinicians better evaluate airway condition and prescribe the most appropriate medication, and can also help increase compliance. RT
_________________________________________________________________
Phyllis Hanlon is a contributing writer to RT. For further information, contact [email protected].