As the use of sedation for pediatric patients expands into areas outside the operating room, when called upon, RTs must be ready to assist in monitoring the safety of these patients.
The volume of pediatric patients receiving sedation has increased. This is in part due to sedation being provided outside of the operating room and in emergency rooms.1 Due to the critical nature of sedation, it is imperative that healthcare professionals understand sedation and how it affects this patient population in order to provide quality care in a safe manner. Didactic and clinical concepts require reinforcement for healthcare professionals, which include respiratory therapists. These professionals, through continuing education, can provide increased patient safety, which in turn reduces the likelihood of medical errors or adverse events occurring during the sedation event.
Background And Nature Of The Problem
Procedural sedation can be defined as the use of sedatives and analgesic agents in patients to reduce their pain and anxiety while undergoing medical procedures.2 The use of procedural sedation is increasing for patients requiring procedures for diagnostic testing or therapeutic medical interventions. No longer is pediatric sedation only provided by anesthesiologists in a hospital operating room.1 Emergency medicine physicians in emergency rooms have historically provided sedation and analgesia to children requiring short and painful procedures and diagnostic studies.1
When providing procedural sedation to a pediatric patient, the unique attributes inherent to this patient population have to be considered. Variations in the type of sedation or analgesia required for a child can be dependent upon age, developmental level, personality, and duration of procedure.
Therefore, healthcare providers must be knowledgeable and competent when providing procedural sedation to pediatric patients.3
Procedural sedation is not without risks. Many patient safety concerns apply to the sedation procedure. These include medications delivered, staff competence, adequate monitoring and emergency equipment, presedation patient preparation, post-sedation patient education, and documentation.
Significance To Clinicians Working With Pediatric Patients
The provision of evidence-based information to healthcare professionals facilitates the optimal goal of improving healthcare delivery systems at the consumer level. The practice of pediatric procedural sedation being administered in emergency rooms and medical diagnostic areas is increasing. The practice is shifting to outside of the operating room. Due to this change, it is imperative to provide essential training and continuing education to healthcare professionals delivering this service.
Aside from the physician, this primarily includes registered nurses and respiratory therapists. These licensed healthcare professionals are employed in emergency rooms and outpatient medical centers. Many are employed in a children's hospital emergency room and are trained specifically for pediatric emergency care and treatment. Others are in acute care hospital ERs and urgent care settings without specialized pediatric training.
Historical Context
Previously, sedation was provided to pediatric patients only in an operating room setting. Now, sedation is provided not only in the operating room, but in ERs and other outpatient treatment areas.1 Various diagnostic procedures and minor surgical procedures over the past decade have increasingly been performed outside of an operating room. The ER setting has recognized a markedly increased use of sedation. Hence, the importance of providing sedation in a nontraditional environment, such as the emergency department, has been noted throughout the medical profession.4
Along with those procedures, diagnostic testing procedures have increased as well. Due to these changes, the American Academy of Pediatrics (AAP) and American Academy of Pediatric Dentistry (AAPD) have recognized the need for sedation use in pediatric patients for both elective and emergency procedures. Subsequently, the AAP and AAPD have published guidelines to follow for sedation use in a pediatric patient. These guidelines provide standards of sedation practice, including patient monitoring, safety, and outcomes associated with sedation of pediatric patients.4
Also, the pharmacologic and nonpharmacologic options available in order to provide pediatric sedation have multiplied over the past two decades. This has allowed ER physicians and other specialists a vast array of agents to use when considering sedation for anxiety, pain control, immobility, and length of procedure.5
Sedation Defined
Sedation is defined as the use of sedative and analgesic agents in order to reduce anxiety and pain in patients undergoing medical procedures. These procedures may be therapeutic or diagnostic in nature. The use of procedural sedation produces altered levels of consciousness. The levels include minimal, moderate, deep, and dissociative sedation levels.2
The use of sedation in children relieves anxiety and pain. In addition, sedation controls patient motion so that the procedure can be performed safely. Procedures performed in an emergency department on children requiring sedation most commonly include diagnostic imaging, fracture reduction, laceration suturing, and wound management, such as laceration repair or incision and drainage. These types of procedures are performed best when a sedation regime is utilized.5
Epidemiology/Demographics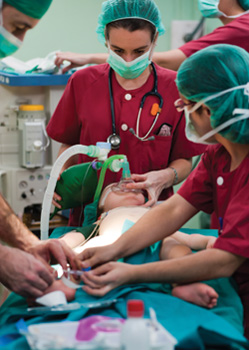 Pediatric patients, as defined by the AAP, include those patients up to 21 years of age. Sedating children is different than adult sedation practice. Children, at times, require sedation to control behavior in order to safely complete a medical or dental procedure. Patient movement for various procedures must be minimized. Children younger than 6 years of age and those with developmental delay require deeper levels of sedation, whereas older and cooperative children have less need for deep sedation. For the latter, topical local anesthetics may prove sufficient to reduce pain for the intended procedure.4
Out of all ER visits in the United States, 18% (21 million) are for children up to 15 years of age. However, that value increases to 20% when ages 18 to 21 are included as part of the pediatric population in a general hospital emergency department. The majority of pediatric emergency visits, up to 90%, occur in general hospitals, not a children's hospital emergency room.6
When reviewing the volume of pediatric patients receiving sedation, various data is noted. Of the 30,037 outpatient sedation sessions reviewed during 2004 and 2005, no deaths were reported, and serious adverse effects were minimal.7 Reported minor adverse events included stridor, laryngospasms, airway obstruction, wheezing, and apnea.3 Sedation was required for a computed tomography study of the head in 8.6% of all pediatric patients. However, 36.4% of patients between 12 and 30 months of age required sedation for the study.5
During the time period of 2004 to 2008, the Pediatric Sedation Research Consortium collected data on pediatric procedural sedation cases.8 A total of 131,751 cases were reviewed.
The most common procedures requiring sedation were:
Imaging studies (62.4%), including radiology, computed tomography, and magnetic resonance imaging;
Hematology/oncology invasive procedures;
Minor surgical procedures;
Endoscopy/colonoscopy procedures; and
Bronchoscopy/laryngoscopy procedures.
Medications used most frequently for procedural sedation were propofol (59.7% of cases), midazolam, pentobarbital, ketamine, and chloral hydrate.8
Of those 131,751 cases, no deaths were reported.8 There were 122 major complications recorded. The complications resulted in the need to provide an increase in the level of care for the patient, or the need to change the patient status from outpatient to inpatient, due to unplanned admission requirements. No statistical differences (P>.05) among pediatric specialists providing procedural sedation were noted in relation to complication rates.
Anesthesiologists are no longer the sole providers of sedation. A range of medical specialists with varying degrees of training administer these medications. ER physicians, due to the nature of treating emergent conditions, provide a large volume of pediatric sedation.1 Therefore, ER pediatric procedural sedation is standard practice. These children can have their pain and anxiety managed so that the diagnostic and/or therapeutic procedure can be carried out.9
Registered nurses in the emergency room perform patient monitoring and commonly administer medications during procedural sedation.10 Respiratory therapists also perform patient monitoring and assessment in the emergency room setting.11
Recommended Competencies For RTs And RNs
The registered nurse and the respiratory therapist must be adequately trained in emergency response and be able to apply rescue therapies. Due to their involvement in working with patients receiving procedural sedation, it is imperative for RNs and RTs to be competent in emergency response skills.3
The Association of Operating Room Nurses has recommended specific nursing competencies related to pediatric procedural sedation for the RN. The competencies verify that the RN understands the following:
Patient assessment;
Monitoring equipment;
Pharmacology of the sedation medications;
Complications associated with sedation;
Airway management; and
Dysrhythmia recognition.
The RN should also be certified in pediatric advanced life support.3
As competencies are an integral part of the RN's qualifications, the same holds true for the RT. The RT working in emergency care must be competent in the American Heart Association's programs, including basic life support, advanced cardiovascular life support, pediatric advanced life support, and the AAP's neonatal resuscitation program. In addition to life support competencies, the ability to manage the patient's airway by performing endotracheal intubation is necessary.11
The RT also requires the competencies as indicated for the RN. Acquiring these competencies solidifies the RT's role in assisting with pediatric patients receiving sedation in an emergency room setting.12
Both RNs and RTs require specific skills, obtained from hands-on training, in order to be proficient in rescue therapies for the pediatric patient receiving sedation who suffers an adverse event. Concepts learned in life support courses require maintenance and practice.
Correct technique is required when performing bag-valve-mask ventilation in the event the child stops breathing or develops an airway obstruction while sedated. Emergency management and related treatment algorithms require advanced training and on-going review on the part of these healthcare professionals.4
Monitoring Guidelines And Documentation Requirements
Pediatric patients who are sedated require continuous monitoring due to potential serious risks, such as apnea and respiratory compromise. Monitoring equipment includes electrocardiography for heart rate and rhythm, pulse oximeter for oxygen saturation, and capnography or end-tidal carbon dioxide (EtCO2) monitor for exhaled carbon dioxide measurement.4 The use of capnography during procedural sedation in children is recommended by the AAP for early detection of hypoventilation and impending respiratory compromise.13 In many hospital and freestanding ERs, the respiratory therapist takes the lead in the monitoring of exhaled carbon dioxide.
The medical record of the pediatric patient, prior to receiving procedural sedation, must have a documented medical history and physical examination. Consent for sedation must be completed and signed as appropriate. Documented medication orders include type, route, dose, and frequency. In addition, fasting status of the patient must be assessed. Patient preparation documentation includes notating patient and parent education given concerning the procedure and required sedation. Prior to the sedation event, a "time out" is to be performed and documented; this step verifies and confirms the correct patient, procedure, and procedure site. Also, documentation of equipment present and access to an emergency cart is required.4,14
Generally, a sedation checklist or procedural/sedation record is utilized for procedural charting, which is usually performed by the RN.15 The RT usually documents assessment of the patient's respiratory function, which includes oxygen saturation levels and breath sounds.11 The procedural monitoring documentation includes vital signs, such as temperature, heart rate, respiratory rate, blood pressure, oxygen saturation level, and EtCO2 level. During the time the patient is sedated, documentation is required every 5 minutes for deep sedation or every 15 minutes for moderate sedation of the child's vital signs and sedation scores. Sedation scores and pain scores are to be assessed and documented pre-procedure, intra-procedure, and post-procedure. Post-procedure documentation includes vital signs charted every 5 to 15 minutes, based on sedation score.4,14
Documentation is required regarding discharge instructions given to the parent. The sedation provider and healthcare professionals involved in the procedural sedation case should record any additional medications or fluids administered, including oxygen administration. Interventions provided and patient response—including any adverse reactions—are also to be documented.4,14
Important Benefits to Patient Safety
There are several potential vulnerabilities that exist with the sedation procedure. These vulnerabilities include staff education and experience levels, necessary equipment, emergency rescue skills, medication use and safety, and recognition of clinically significant patient problems. Any of these areas constitute a patient safety/quality improvement problem. Each of these areas can affect the pediatric patient's outcome, in either a positive or negative manner.
Several of the National Patient Safety Goals for 2013 set by The Joint Commission relate to the practice of sedation and patient care:15
Improve the accuracy of patient identification,
Improve the effectiveness of communication among caregivers,
Improve the safety of using medications,
Reduce the risk of healthcare associated infections, and
Universal protocol for preventing wrong-person, wrong-site, and wrong-procedure.
Each of these goals can be identified during the sedation procedure.
Patient safety is a science that reduces adverse events. Teaching essential attributes of this science allows healthcare professionals the ability to minimize and negate undesired patient outcomes.16 Patient safety models recognize the importance of the collaborative work of the healthcare team, and respiratory therapists play an integral role in assuring pediatric sedation is provided safely in the ER. RT
______________________________________________________________________
Cathy Rozansky, DHSc, RRT, is pediatric pulmonary educator, Wolfson Children's Hospital, Jacksonville, Fla. For further information, contact [email protected].
______________________________________________________________________
References
Havidich JE, Cravero JP. The current status of procedural sedation for pediatric patients in out-of-operating room locations. Curr Opin Anaesthesiol. 2012;25:453-460.

American College of Emergency Physicians. Sedation in the emergency department. 2011. Available here. Accessed December 15, 2012.

Jest AD, Tonge A. Using a learning needs assessment to identify knowledge deficits regarding procedural sedation for pediatric patients. AORN J. 2011;94:567- 574.

Cote J, Wilson S. Guidelines for monitoring and management of pediatric patients during and after sedation for diagnostic and therapeutic procedures: an update. Pediatrics. 2006;118:2587-2602.

Bennett J, DePiero A, Kost S. Tailoring pediatric procedural sedation and analgesia in the emergency department: choosing a regimen to fit the situation. Clin Pediatr Emerg Med. 2010;11:274-281.

Cloutier RL, Walthall JD, Mull CC, Nypaver MN, Baren JM. Best educational practices in pediatric emergency medicine during emergency medicine residency training: guiding principles and expert recommendations. Acad Emerg Med. 2010;17:S104-S113.

Costa LR, Costa PS, Brasileiro SV, Bendo CB, Viegas CM, Paiva SM. Post-discharge adverse events following pediatric sedation with high doses of oral medication. J Pediatr. 2012;160:807-813.

Couloures KG, Beach M, Cravero JP, Monroe KK, Hertzog JH. Impact of provider specialty on pediatric procedural sedation complication rates. Pediatrics. 2010;127:e1154-e1160.

Sahyoun C, Krauss B. Clinical implications of pharmacokinetics and pharmacodynamics of procedural sedation agents in children. Curr Opin Pediatr. 2012;24:225-232.

Proehl J, Arruda T, Crowley M, et al. Emergency Nursing Resource: The use of capnography during procedural sedation/analgesia in the emergency department. J Emerg Nurs. 2011;37:533-536.

Barnes TA, Gale DD, Kacmarek RM, Kageler WV. Competencies needed by graduate respiratory therapists in 2015 and beyond. Respir Care. 2010;55:601-616.

Eipe N, Doherty DR. A review of pediatric capnography. J Clin Monit Comput. 2010;24:261-268.

Barnes TA, Kacmarek RM, Kageler WV, Morris MJ, Durbin CG. Transitioning the respiratory therapy workforce for 2015 and beyond. Respir Care. 2011;56:681-90.

Galvin AA. Sedation. In: JA Proel, ed. Emergency Nursing Procedures. 4th ed. St Louis: Saunders; 2009:842-46.

Joint Commission. National patient safety goals effective January 1, 2013. Available here. Accessed December 15, 2012.

Emanuel L, Berwick D, Conway J, et al. What exactly is patient safety? In: Henricksen K, Battles JB, Keyes MA, Grady ML, eds. Advances in Patient Safety: New Directions and Alternative Approaches (Vol 1). Rockville, Md: Agency for Healthcare Research and Quality. 2008.