Compared to COPD, asthma, or cystic fibrosis, Alpha-1 antitrypsin deficiency lung disease is not well known, but dedicated researchers and RTs continue to support patients and work towards finding new treatment options.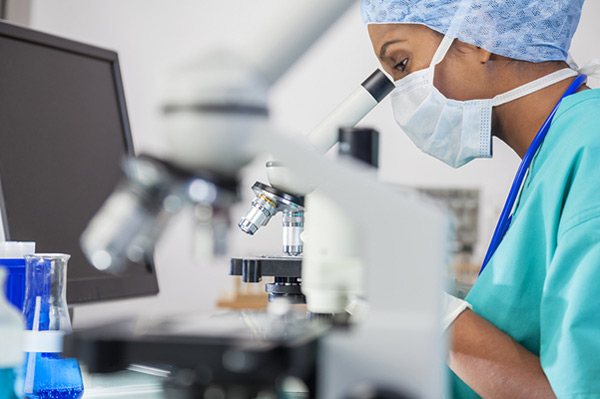 First identified about 50 years ago, alpha-1 antitrypsin deficiency, also known as alpha-1, is an inherited genetic disease resulting in a lack of a blood protein alpha-1 antitrypsin. AAT, which is mainly produced by the liver, functions to protect the lungs from inflammation caused by infection and inhaled irritants such as tobacco smoke, according to the Alpha-1 Foundation, a not-for-profit Florida corporation supporting patients with the disease. The decrease of AAT in the blood can lead to lung disease. The disease can also cause liver failure.
Among alpha-1's pulmonary symptoms are shortness of breath, wheezing, chronic bronchitis, recurring chest colds, less exercise tolerance, asthma that is resistant to treatment, year-round allergies, and bronchiectasis. Liver symptoms include unexplained liver disease or elevated liver enzymes, jaundice, swelling of the abdomen or legs, and vomiting blood.[1] It is estimated that there are about 100,000 Americans with the condition, with only about 10,000 of them diagnosed, according to James Stoller, MD, MS (ODA), chair of the Cleveland Clinic Education Institute.
While the disease is not well known and is under-diagnosed, there is a strong support network for patients, spearheaded by the Alpha-1 Foundation. The organization is marking its 20th anniversary this year in the campaign to raise awareness about alpha-1 and to support effort for a cure.
Good News and Bad News
The Alpha-1 Foundation had its roots with the diagnosis of its co-founder and current president/CEO, John Walsh, whose alpha-1 antitrypsin deficiency was detected in the early 1990s. The first indication that Walsh had the disease was when he developed chronic asthma symptoms at the age of 35. Walsh's twin brother Freddie also began exhibiting similar symptoms around the same time. Alpha-1 can develop in patients at any time during their lives, but it typically manifests itself when patients are between the ages of 35 and 45, according to Walsh.
Walsh and his twin brother's symptoms increased in severity over the next five years, causing them both to be hospitalized. It was Walsh's brother, Freddie, who was the first to receive a definitive diagnosis.
"He called me and told me 'I have good news and bad news. We know what we have. It's this genetic disease called alpha-1 antitrypsin deficiency, which is causing our breathing problems.' I said, 'you don't have to tell me the bad news'," Walsh recalled.
Walsh knew exactly what the diagnosis meant. His mother developed early onset emphysema (which was likely alpha-1-related) and died from the disease when she was 46. Since three Walsh's four other siblings either have the disease or have the genetic marker for it, it is probable that his father was also a carrier of the gene, he said.
Walsh finally received his own alpha-1 diagnosis in his early 40s. But the fact that it took several years for the Walsh brothers to be diagnosed with alpha-1 after being misdiagnosed with another disease—in their case asthma—is not surprising.
"On average it will take 6.5 years for a patient to be diagnosed. During that time they will have seen, on average, 3-4 physicians before finally being diagnosed with alpha-1," said Kellie Hotz, corporate communications for Baxter International, a company that produces one of the four pharmaceuticals cleared for treatment of alpha-1.
Shortly after his diagnosis, Walsh took part in a natural history research study of the disease, which was held at about 30 centers around the country. During the study, the patients formed support groups. The experience in the study and the ad hoc support groups inspired Walsh to act, and, in 1995, he co-founded the Alpha-1 Foundation, where he serves as president and CEO. The organization now offers 80 support groups and has funded $52 million in research since 1998, according to Walsh.
"We spent the first three years organizing the infrastructure. Today we have the largest patient registry and Alpha-1 DNA and tissue bank," Walsh said. The foundation has also increased the number of clinics in its network from the initial 30 or so to more than 80. One of the Foundation's early victories was to make testing for alpha-1 more widespread.
"The ATS Guidelines state that all COPD and emphysema patients should be tested for alpha-1," said Greg Healy, senior manager of public relations and communications for CSL Behring, another provider of an alpha-1 drug. "Respiratory therapists have close contact with COPD patients and can help to identify alpha-1 patients by partnering to implement screening programs into existing COPD management protocols. After alpha-1 patients are identified, respiratory therapists can assist in managing patients through pulmonary rehabilitation, oxygen therapy, and treatments to manage COPD symptoms."
Few Treatment Options
While there is no cure for alpha-1, there is an approved treatment called augmentation therapy, which consists of a weekly intravenous infusion of alpha-1 antitrypsin protein (AAT) from the blood plasma of healthy human donors.[1] The idea behind the therapy is that the AAT will augment the alpha-1 levels in the blood of alpha-1 patients diagnosed with emphysema. This therapy will likely continue for the life of the patient, according to the Alpha-1 Foundation. "While not definitive, the weight of the data clearly supports the efficacy of augmentation therapy," said Stoller of the Cleveland Clinic.
There are four drugs available to patients for augmentation therapy. The four drugs currently available are:
Zemaira from CSL Behring;
Prolastin from Grifols USA;
Aralast NP from Baxter International; and
Glassia, which is manufactured by Kamada, and distributed by Baxter.
While a relatively rare disease, this has not lessened the commitment of these companies, such as CSL Behring, to treating and supporting patients.
"CSL Behring is a global biotherapeutics company committed to providing innovative therapies for rare and serious diseases, including alpha-1 antitrypsin deficiency," noted Healy of Behring. "This commitment is shown through our product for the treatment of alpha-1 as well as comprehensive programs focused on alpha-1 detection and alpha-1 patient support.  CSL Behring also supports alpha-1 patient community organizations, including the Alpha-1 Foundation, AlphaNet, Inc., and the COPD Foundation."
While each of the drugs are infused and have similar properties, they do have different advantages depending on the patient's disease symptoms.
"Aralast NP [Alpha1-Proteinase Inhibitor (Human)] and Glassia [Alpha1-Proteinase Inhibitor (Human)] are indicated for chronic augmentation and maintenance therapy in adults with clinically evident emphysema due to severe congenital deficiency of Alpha1-PI (alpha1-antitrypsin deficiency)," according to Hotz of Baxter International. "Glassia is an alpha-1 antitrypsin augmentation therapy which helps to protect lung tissue from degeneration by increasing the AAT level. Aralast NP augments the concentration of alpha-1 proteinase inhibitor in the blood and lungs of patients with alpha-1 antitrypsin deficiency. Once a patient is placed on augmentation therapy, it will allow the RT to concentrate on and treat any other COPD related symptoms."
As with the other drugs currently available. Zemaira, which is produced and distributed by CSL Behring, is infused in patients once per week.
"Zemaira is approved by the FDA for chronic augmentation and maintenance therapy in adults with alpha-1 and emphysema.  The purity (total A1-PI/total protein) is ?90% A1-PI. Zemaira was the first Alpha1-Proteinase Inhibitor with an average infusion time of 15 minutes," according to Healy. "In addition, we offer unique programs to the alpha-1 patient community including the DNA1 Advanced Alpha-1 Screening program, which must be administered by a healthcare provider, that can find the 1-in-20 alphas that other tests may miss and the Zemaira CareZ patient support program that assists patients with starting Zemaira, affording therapy, connecting to fellow alphas, and maintaining overall health."
Since many alpha-1 patients have also been diagnosed with COPD, treatment of those symptoms following traditional protocols is also recommended, according to Stoller. Pulmonary rehab handled by RTs is also on the treatment menu.
While augmentation therapy and traditional COPD therapy are the primary ways patients are treated for alpha-1, according to the Alpha-1 Foundation, for those with end stage disease (either lung or liver failure), transplantation may be the only option left.
Stoller said that, for those with lung failure, transplantation seems to work a bit better for alpha-1 patients than those only affected with COPD. However, lung reduction surgery seems to be less effective for alpha-1 patients and he doesn't recommend it for his patients.
Supporting the Community
As Stoller noted, augmentation therapy is the most effective treatment, but the additional support provided by the Alpha-1 Foundation is key in helping patients find the resources they and their families need to understand and the genetic disease and get treatment. Support includes educational resources on its web site, access to support groups, and a mentoring program that has long-time patients offering one-on-one support and guidance to the newly diagnosed and their families. There is also a confidential test available directly from the Alpha-1 Foundation, called the Alpha-1 Coded Test. Educational materials are available in eight languages.
The Alpha-1 Foundation also supports researchers and holds several education days every year and a biannual international conference—this year's will be in Italy—that brings together researchers from across the globe. For RTs attending these education days and conferences, the foundation offers CEUs, according to Walsh.
Walsh said that RTs form an integral part of the Alpha-1 team. Currently there are six on staff at Alpha-1's sister foundation the COPD Foundation. One of their important functions is consulting. Walsh calls RTs the "front line" defense in the fight against the disease and credited them with helping him and his brother get out of the hospital and on their feet after they were first diagnosed.
One of Walsh's biggest personal missions is to remove a misconception around COPD. "I wanted to unravel the stigma of COPD as a 'smoker's disease,'" he said, noting that patients are often believed to have caused their disease through their lifestyle, namely by smoking. On the contrary, it's estimated that about 28% of COPD patients report that they have never smoked, which suggests many of them developed the disease due to other environmental factors (eg, work-related conditions), or they have undiagnosed alpha-1—or potentially another as-yet-unrecognized genetic disease—according to Walsh.
RTs on the Front Lines: Diagnosis & Treatment
While clinical researchers are in the labs looking for a cure for the disease, Stoller believes that RTs going about their daily clinical rounds have been key in helping to identify patients and begin treatment. "The majority of folks in our midst that have alpha-1 don't know they have it, and so I've often felt that enhancing the way of detecting alpha-1 is engaging respiratory therapists who are in a position to see these patients in settings that, for instance, pulmonary doctors may not," he said.
"Most patients with COPD in this country are probably not being seen by a pulmonologist," Stoller said, but are more likely under the care of primary care physicians or respiratory therapists during pulmonary rehab or in a PFT lab. "So I've often felt that respiratory therapists can play an important role in identifying patients and some of the research I've been engaged in with colleagues involves demonstrating that respiratory therapists can enhance detection."
Stoller, who holds the Jean Wall Bennett Professorship in Emphysema Research at the Cleveland Clinic Lerner College of Medicine and the Samson Global Leadership Academy Endowed Chair, was involved with two studies that demonstrated RTs could help in alpha-1 detection. One showed that RTs performing pulmonary function tests could notify patients of any pulmonary obstructions and quickly offer testing to determine if the patients had alpha-1. The second involved a collaboration between the American Association of Respiratory Care (AARC) and the Alpha-1 Foundation to develop an online curriculum for therapists. This collaboration has been a success, Stoller said. "It showed that those therapists who had engaged in taking that curriculum were also effective in identifying patients with alpha-1 antitrypsin deficiency."
What's Next?
Even with treatments like augmentation therapy, pulmonary rehab, and transplantation available, research continues toward developing more therapies and Stoller predicts that RTs will play an ongoing role. For instance, at the Cleveland Clinic, they work shoulder to shoulder with clinical researchers, administering studies and doing research.
Stoller said that one of the most exciting research developments is an investigation into the possibility of delivering augmentation therapy via inhalation instead of intravenously. "The idea is to inhale the protein instead of administering it intravenously, and, of course, if that happens RTs will be front and center counseling patients as they do for any nebulized therapy. There's also gene therapy trials, and there's drugs that are being examined in regards to the liver," Stoller said.
Perhaps the most important function that RTs will play will be in raising awareness about the disease in addition to doing traditional research and treatment, said Stoller. "I think all this academic activity creates opportunities for committed professionals to play an important role," he said. "This is certainly an area where respiratory therapists can play very meaningful roles."
____________________________________________________________
C.A. Wolski is a contributing writer to RT.
____________________________________________________________
Reference
1. The Alpha-1 Foundation. Retrieved from http://www.alpha1portal.org.