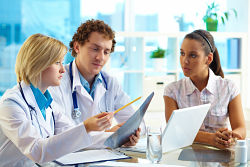 Researchers at The University of Texas Health Science Center at Houston (UTHealth) School of Public Health have been awarded a four-year, $1.3 million grant by the CDC and the National Institute for Occupational Safety and Health (NIOSH) to study how the risk of asthma has changed for healthcare workers in Texas over the last 10 years.
Asthma prevalence is growing across the United States and certain occupational groups are more affected than others, including those in the healthcare field.
In 2003, the researchers published the results of a survey that found an increased prevalence of asthma among health care workers, especially nurses. After entering the health care field, 7.3% of nurses developed asthma while this figure was between 4.2 to 5.6% for doctors, respiratory therapists and occupational therapists.
Since nurses handle cleaning products on a regular basis, researchers studied the types of products used for medical instrument cleaning and general surface cleaning. They determined that use of liquid medical disinfectants, such as glutaraldehyde, significantly increased asthma risk in these health care professionals.
"Practices in hospitals have changed in 10 years. There are new cleaning chemicals, including many environmentally friendly ones, but are those products without risk? We want to find out," said George Delclos, MD, PhD, co-principal investigators and professor in the Division of Epidemiology, Human Genetics & Environmental Sciences at the UTHealth School of Public Health.
In the new study, researchers will repeat the same survey with a larger sample size of health care workers in Texas to assess whether the risk has changed. The follow-up study will also focus on different nursing professionals, such as vocational nurses, registered nurses and nurse practitioners.