As healthcare reform and reimbursement procedures grow more complex, integrating COPD navigator education into the curriculum of respiratory care programs is critical to the clinical and career success of students.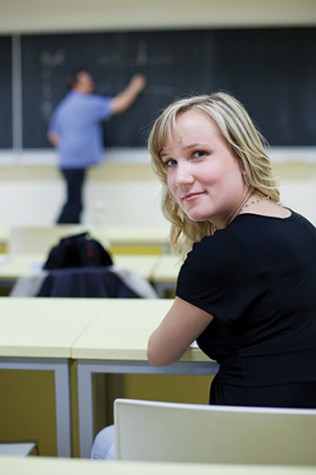 Compartmentalization of education provided for respiratory therapists is widespread throughout higher learning facilities. A chronic obstructive pulmonary disease (COPD) navigator curriculum must be created and integrated into current programs as students are developing their skill-set.
The ability to discuss issues with patients and their families about smoking cessation, medication, oxygen therapy and delivery device training, pulmonary rehabilitation, diagnostic testing, and other components of care is learned as the therapist grows within the field. However, the foundation must be provided for the student to understand when and how to apply these skills to COPD patients and its relation to insurance and reimbursement.
A COPD patient navigator's primary focus is to educate patients and families about self-management, assist in transitioning patients from acute care to outpatient management, and decrease the incidence of readmissions. This level of education is necessary within the higher education setting to create a practitioner who grows with this knowledge base from the start of his/her career.
Why a COPD Navigator?
Healthcare changes have begun to roll out. With these changes comes a restructured reimbursement for hospitals that has led to new policies affecting patient readmissions and preventative care for COPD. Patient readmissions occur for a variety of reasons that ultimately lead to a cycle of deterioration of health. It is important to begin to provide the education that will elevate tomorrow's respiratory care practitioners (RCPs) into efficient patient care managers to help alleviate this cycle.
Integrating COPD navigator education into the curriculum of respiratory care programs will produce practitioners who are aware of the needs of pulmonary patients beyond critical care, give them the tools to contribute to the patients' well-being, and allow the healthcare systems they work for to have positive financial results. Collaboration contributing to sustainability of the respiratory care practitioner via expansion of current curricula will prove beneficial to healthcare facilities, the quality of life for COPD patients, and institutions of higher education.
Higher education institutions that produce RCPs, both for profit and not for profit, are missing key information required to keep up with changes occurring in the healthcare system. As of October 2014, changes in healthcare reimbursement took effect for COPD patient readmissions.
Unfortunately, most healthcare providers do not have the tools to establish new methods of care that will diminish readmissions. If colleges that offer education to these providers do not develop a branch of knowledge that extends the RCP's ability to add value to the healthcare system, the opportunity will be lost.
COPD is a major cause of mortality and morbidity in the United States, trailing only heart disease and cancer as the third leading cause of death, with associated treatment costs in the billions.1 The effect of this chronic disease on patients was unexpected and is the result of:
Decimation of pulmonary rehabilitation in recent years;
Little structured inpatient education for the COPD patient population;
Medication regimens can be difficult for patients to understand.
The Patient Protection and Affordable Care Act (PPACA, or ACA) is going through its most significant change since its enactment. One of the most critical changes taking effect for COPD is the Hospital Readmissions Reduction Program (HRRP), which is intended to curb the ballooning costs of healthcare. However, a reduction in COPD readmissions will only be achieved by proficient healthcare providers.
It is a crucial time for the respiratory profession to establish itself at the foreground of change for COPD patients. Success relies on filling the gap in education. These changes will give RCPs the opportunity to prove the quality of the care they provide and the specialty training that relates directly to COPD patients. However, the realization that we can impact people in such a dramatic way will not come for most until it is ingrained in the core curriculum: information that gives students, new graduates, and healthcare systems the confidence it takes to apply this practice to patient care.
Higher Education Is at the Core of Advancement for Healthcare
Healthcare providers begin learning about anatomy and physiology as a foundation for their education. The core curriculum develops a basis for interaction, treatment, and care plans for patients they are trained to care for. If RCPs were given the tools to integrate healthcare navigation into the education provided in the commencement of courses, it would build an expanded foundation.
Elwood stresses: "The provision of healthcare services may be necessary to enhance personal and community health status, but it not always is sufficient."2 Introduction of healthcare navigation in higher education will increase competence, leading to greater efficiency in patient care.
Broadening knowledge in higher education institutions to include patient care management continues care beyond the current practice. The foundation must be provided for the student to understand when and how to apply these skills to COPD patients and its relation to insurance and reimbursement.
This level of education, which is not part of current programs, is necessary within the higher education setting to create an RCP who grows with this knowledge base from the start of their career. The application of this information into baccalaureate and graduate programs will help to further differentiate the roles of advanced practice practitioners. This new practice will produce RCPs who are able to keep up with changes occurring in the field. Incorporation of this information into advanced levels of higher education allowed students to demonstrate an understanding of the Affordable Care Act and meet the challenge of learning complicated material.3
RCPs can attain further knowledge from their professional organizations and associations post licensure. The American Association for Respiratory Care (AARC) and the American Lung Association (ALA) offer COPD Educator programs for healthcare providers interested in furthering their skills to practice as a COPD navigator.
The healthcare providers who show initiative for growth and seek out the specialized education will prove the beneficial role that this curriculum provides, at many levels of their career. As Darnell points out, "There are, in fact, many such places in the ACA, particularly where one encounters the terms 'case management,' 'care coordination,' and 'care management'—terms that occur 39 times."4
The Expansion of Knowledge in Care Is Vital for Patient Health
Typically, a patient is admitted to the hospital, recovers to an acceptable level of health, and then is discharged, but without education about disease state management and appropriate use of healthcare resources. This has caused a deleterious effect on a patient's health and the healthcare system. "A strong continuum of care cannot exist without a workforce well trained and sufficient in size to care for the population in need," according to Shugarman and Whitenhill.5
There has been an obvious missing piece in the management of diseases that affect the respiratory profession. The ACA has outlined the need for the coverage of this role to create a link between readmissions and patient education by the healthcare professional. The healthcare managers and educators have a great responsibility to prepare and inform those who will be charged with leading healthcare organizations through the dramatic changes that need to happen and likely will happen over the course of their careers.6
Higher education has encompassed many themes for healthcare providers. Without it, the development and advancement of roles within organizations would suffer. Materials to expand knowledge must be made available to build broader foundations. Students are constantly seeking new and improved routes of care and need accessibility. The information must be ready and attainable for those interested in the continuum of care. "The availability of educational opportunities and healthcare services has played a fundamental role in the development of the United States as a nation of global significance."2
According to Kelly,7 providing specialized respiratory education in a higher education setting led to an emerging trend among learners. Furthermore, a change in practice, implementation, and views regarding disease management was accepted and applied into the students' care.7 Learners are constantly being tested about their grasp of information presented and these findings suggest the beneficial elements that cross over to patients when students gain knowledge.
Knowledge of reimbursement guidelines gives RCPs the tools that will aid in maneuvering through complicated pathways of care, provides the capacity to understand which treatment routes will promote a better quality of life for their patients, and contributes to a reduction in negligent costs for organizations. These factors will highlight the need for RCPs across the continuum of care.
"As prospective health administrators, students must be familiar with healthcare reform, and must have the ability to make confident decisions concerning their organization in context of the ACA," according to Hotchkiss et al.3
Navigation Education: The Difference in Care
As RCPs evolve through a more rigorous core foundation in baccalaureate and masters level programs, the outcome will substantiate the efforts of healthcare navigation curriculum development. Employers will notice improvement in patient satisfaction and professional associations will recognize the strides being made by these RCPs. There is great potential for adaptations in practice as progress is made from an enhanced curriculum.
The trend in many institutions has been to produce a graduate then "cut the cord," so to speak. Change in the norm is not often sought within higher learning because it is assumed that what has worked in prior years will continue to work. However, if these same institutions of higher learning seek out trends in the industry specific to the graduate they are producing, they will add value to their system. They will achieve recognition for their efforts to promote sustainability across the continuum of care.
Healthcare navigation cannot wait for a delayed realization of its existence. The delay of integration will put further strain on a potential employer's bottom line. As Kelly states: The "anecdotal evidence suggests that the identification of training needs, and the educational input necessary to address these needs, is often left to the discretion of individuals or primary care organizations."7
An educator's primary purpose is to instill a desire to learn and provide the necessary information to the student. If a healthcare navigation curriculum is developed and applied appropriately, the institution will have successfully cultivated a marketable graduate fit for immediate employment. Employers in today's market need an employee who can think outside the box and master the changes emerging in healthcare.
Hotchkiss et al believe, "This multitude of change translates into specific challenges for health educators to ensure students' adequate workforce preparation, and may warrant reconsideration of current teaching methods and exploration of new options."3
Development of Navigator Curriculum Can Produce Prepared Providers
New healthcare policies and guidelines will continue to be implemented despite the delay in integrating a COPD navigation into the higher education curriculum for RCPs. Compared to only 10 years ago, caring for a patient is much more complex today because of the changes in reimbursement. If today's education were to include training directly related to COPD, a disease commonly seen by RCPs, management would be much more effective.
In addition, the patient would have a much smoother transition between different levels of care. The level of job satisfaction among RCPs would also increase, due to improved outcomes accomplished with this new knowledge. According to Shugarman and Whitenhill, "As the federal government is forced to confront the insolvency of programs such as Medicare that have buttressed the healthcare system, and states are facing unprecedented budget deficits putting major health programs at risk, the ACA provides many opportunities to reinvent the health and long-term-care systems to achieve greater sustainability."5
The Solution
The options for change have surfaced through realization of the impact on future practitioners. To bridge the impact of healthcare reform, many positive steps are being taken, including specialized certifications, conferences by professional organizations, and a reorganization within multidisciplinary teams.
Questions will still arise. How do we establish long-term benefits within organizations that care for COPD patients? Will the efforts that are currently in place be enough?
The answer is to be prepared. Solid preparation for the growing issue of COPD patient readmissions and deterioration of quality of life will be addressed by integrating pulmonary navigation into the core curriculum of higher learning institutions. RCP students in every level of academia will benefit from this integration. The organizations that employ new graduates have realized the value of the RCP who is capable of utilizing this information within their scope of practice. Inclusion of this important information adds to a student's learning, their potential, and the future for the field. RT
__________________________________________________
Monique Steffani, BS, RRT-NPS, ACCS, is a respiratory therapist at Long Beach Memorial Hospital in Long Beach, Calif. For further information, contact [email protected].
__________________________________________________
References
Hart M. COPD Navigators. Advance Healthcare Network for Respiratory Care & Sleep Medicine. 2013.
Elwood TW. At the crossroad of higher education and health care. J Allied Health. 2010;40(2):57-63.
Hotchkiss RB, Cantiello J, Warbington M. Active learning in action: Preparing future leaders for policy reform. Journal of Health Administration Education. 2013;30(1):59-67.
Darnell JS. Navigators and assisters: Two case management roles for social workers in the Affordable Care Act. Health Soc Work. 2013;38(2):123-6. hlt003.
Shugarman LR, Whitenhill K. The Affordable Care Act proposes new provisions to build a stronger continuum of care. Generations. 2011;35(1):11-18.
Davis K, Stremikis K. Measuring and improving health system performance: what can healthcare management educators do? Journal Health Adm Educ. 2008;25(1):5-15.
Kelly C. Does specialist respiratory education make a difference to practice? Nurse Educ Pract. 2010;10(5):308-315.