Initiatives across the country are expanding access to quality spirometry, a key component in the proper diagnosis and treatment of respiratory conditions like COPD and asthma.
By Karen Appold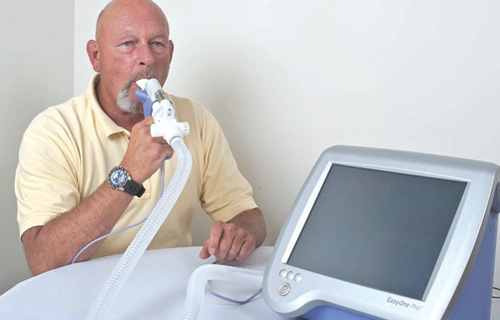 Spirometry, the most common pulmonary function test, is an important tool for assessing conditions such as asthma and chronic obstructive pulmonary disease (COPD). About 10% of the US population suffers from asthma; most of these patients are treated by primary care providers. "But these providers don't always know that the use of spirometry is central to National Asthma Education and Prevention Program evidence-based guidelines," said Bruce Bender, PhD, head, Division of Pediatric Behavioral Health, National Jewish Health, Denver.
According to Jason Moury, BS, RRT, DRIVE4COPD coordinator, American Association for Respiratory Care (AARC), Irving, Tex, spirometry is also recommended by AARC as well as the American Thoracic Society and the European Respiratory Society. "If simple lung volume tests are not performed, patients with some degree of lung disease can be misdiagnosed and mistreated," Moury said. "By performing spirometry, providers can also get more information regarding the appropriate treatment."
A Closer Look At Three Initiatives
Because of its value, efforts are ongoing across the nation to improve access to spirometry for undiagnosed patients as well as for patients with asthma, COPD, and other lung-related conditions.
National Jewish Health implemented the Colorado Asthma Toolkit in 2007. Through the program, asthma specialists train primary care providers to better diagnose and treat asthma patients with spirometry. The program focuses on primary care practices that typically treat medically underserved areas, such as those with large Medicare populations, bilingual patients, and rural providers, according to Bender.
The program began in eastern Colorado and is moving westward. "The goal is to spread across the entire state," Bender said. Funding has been provided by the Colorado Department of Public Health and Environment, the Kaiser Permanente Community Grants Program, the Caring for Colorado Foundation, and the Jessie Ball duPont Fund. "If it continues, we should be able to complete the entire state in 2 to 3 years."
Another program—the Mobile Spirometry Unit (MSU)—was launched by the COPD Foundation in 2007, in partnership with the National Heart, Lung, and Blood Institute (NHLBI), the AARC, and the National Lung Health Education Program. "John Walsh, president and cofounder of the COPD Foundation, wanted to have spirometry testing as readily available as blood glucose testing," Moury said.
At first, the MSU consisted of a truck that was driven across the country. Respiratory therapists were recruited to perform spirometry at community-based events. Today, the truck is no longer used (materials are sent ahead of time in trunks), but the MSU travels to various health fairs and expos and tests anyone who may be at risk for COPD or who is curious about their lung health status.
COPD Foundation personnel provide educational information regarding COPD. To date, more than 41,000 people have been tested for their risk of COPD, according to the foundation.
In 2009, researchers at the University of Washington, in Seattle, released a spirometry training program called Spirometry 360—a suite of online resources that includes a multimedia tutorial, case-based virtual classroom training sessions led by clinical experts, and customized, remote feedback of spirometry tests performed at the point of care.
"A few years earlier, we published a study1 showing the value of spirometry in assessing asthma in children," said Jim Stout, MD, MPH, professor, Department of Pediatrics, University of Washington. The study implied that when using spirometry, physicians would make a different clinical decision for one out of three asthma patients. "This led us to another question: Why isn't spirometry in primary care? A main reason was lack of training and feedback on performing and interpreting the test," Stout said.
To date, more than 300 primary care practices around the United States have participated in the 5-month Spirometry 360 training and feedback program, according to Stout, who added that users find the feedback component particularly helpful, because testers find it difficult to tell if they are properly performing spirometry. The feedback system automatically uploads tests for evaluation. "We package the results into a feedback report that practices can view," Stout said.
The Importance Of Spirometry Access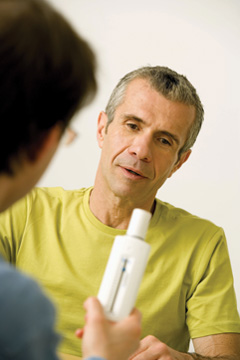 Despite the effective uses for spirometry, according to Bender, most primary care practices do not use the diagnostic tool because they do not know how to administer the test, and therefore have never purchased a spirometer. Among those practices that do have a spirometer, the majority own a previous generation device that requires the instrument to be recalibrated daily. Few primary care practices master this difficult task, which means the spirometers often go unused.
Through the Colorado Asthma Toolkit, each participating practice is provided with an EasyOne spirometer, manufactured by ndd Medical, Andover, Mass. "This new-generation equipment is much easier for primary care practices to adopt," said Bender. "It doesn't require calibration and is very portable. Our training includes intensive practice with the EasyOne spirometer and the Toolkit website contains videos that new staff can view to learn how to conduct EasyOne spirometry."
While attending events with the MSU, Moury said it's common for many people who test positive for COPD to not be aware they had the disease. As a result, they haven't done anything about it.
"The MSU, in conjunction with the DRIVE4COPD Risk Screener, helps to start this conversation," he said. "When patients are armed with both their COPD Risk Screener score and the Lung Score Card score, they should begin their communication with their doctor.
"Having this information can assist healthcare providers with some information about the patient's lung health. Being tested with spirometry is instrumental to finding out about a potential COPD diagnosis. Early diagnosis is key to management, and the earlier we identify potential problems the earlier we can identify a proper treatment plan and potentially improve the quality of life."
A study2 of Spirometry 360 by Stout and colleagues, published in Academic Pediatrics, showed that this online training method improved the rate of acceptable tracings when spirometry was performed. "A spirometer gives you information you wouldn't get otherwise," Stout said. "It impacts the types of medication you prescribe, specifically controller medications."
Improving Outcomes
Studies show that using spirometry improves patient outcomes. Results of the Colorado Asthma Toolkit program's coaching efforts were published in a study3 in The Journal of the American Board of Family Medicine. Among 58 primary care practices, these changes were reported in their asthma management behaviors:
40.4% of practices increased their use of inhaled corticosteroids, with the median percent of patients taking inhaled corticosteroids rising from 25% to 50%;
53.2% of practices increased their use of asthma action plans, with the median percent of patients with action plans rising from 0% to 20%;
78.7% of practices initiated or increased their use of spirometry, resulting in a rise in median use from 0% to 30%.3
"The changes that we see appear to be enduring," Bender said.
According to the Spirometry 360 study2 published in Academic Pediatrics, which evaluated 1,028 spirometry sessions, a multifaceted distance quality improvement program resulted in increased spirometry quality and improved assessment of asthma severity levels. Successful participation in quality improvement programs can occur over distance.
"We demonstrated that the quality of the tests improved as a result of this training when you compare intervention to the control group," Stout said. "We were also able to improve the number of patients who were appropriately labeled with asthma severity."
Making An Impact
Across the board, spirometry initiatives have been successful. Bender said the response to the Colorado Asthma Toolkit program has been overwhelmingly positive. Since the program began, asthma hospitalization rates in eastern Colorado have decreased. "Providers have been very enthusiastic about the training because we go to their practices and train all physicians and mid-level providers," he said. "Nonprofit grants enable us to pay for the spirometers. We also offer practices continuing medical education credits."
According to Bender, "Many providers say that with spirometry, they are doing a better job of tracking changes in people's asthma—which occurs a lot over time. Catching changes early is key to preventing a bad exacerbation that could result in a hospitalization."
The COPD Foundation's MSU has had a great public impact. Since its inception, the MSU has raised awareness about COPD nationwide through education, screening, and testing. "Some people who get the MSU tests may not have COPD, but they can learn information that could help a loved one. The MSU helps everyone gain a better understanding of what COPD is," Moury said.
Spirometry 360 has been extremely well received. According to Stout, a feedback survey at the end of each course shows that more than 99% of practices would recommend the training to a colleague and rank it as either excellent or good. "We would like to have a much greater impact," said Stout, who admitted that the project must increase their marketing efforts. "We mostly rely on word of mouth and people finding our website. I think if people knew about us, they would take advantage of our program because I think there is a great need."
According to Karen Warman, MD, Comprehensive Family Care Center, Montefiore Medical Group, Bronx, NY, who used the Spirometry 360 program, "I compared the asthma severity classifications and long-term medication plans for 65 children in an inner-city primary care setting, before and after spirometry. I found that over 40% of children had their plans 'stepped up' to a higher NHLBI level after spirometry testing. Overall, more children were prescribed controller medications after spirometry."
Should Spirometry Be Mandated?
Lawmakers in England are developing new rules under the National Health Service that would require general practitioners to take spirometry training.4 Their rationale is "to ensure that all members of staff carrying out spirometry testing are 'quality assured.'"4 The move comes as a result of "evidence of 'sub-standard' spirometry being conducted in some GP surgeries, that was leading to patients being misdiagnosed," according to lawmakers.4
While Bender is in full support of having more general practitioners using spirometry, he would oppose a mandate requiring them to take spirometry training. "I am always reluctant to impose new requirements on providers who are already overburdened by requirements," he said. "I'd prefer to make it easier to get the training rather than require it. Providers who want to be trained learn more than those who are forced to be trained.
"Ideally, state medical societies would make programs like ours available with continued medical education," added Bender. "Making it easier is key, because most healthcare providers are already stretched pretty thin these days."
Stout agreed. "Reducing barriers to getting training is the best approach," he said.
Moury would advise busy physicians to have a solid support system that includes a respiratory therapist or a similarly qualified healthcare professional trained on spirometry. "This can help increase patient care while hopefully reducing costs," he says. "Education and repetition are important and can help reduce errors while increasing quality." RT
__________________________________________________
Karen Appold is a contributing writer to RT. For further information, contact [email protected].
__________________________________________________
References
1. Stout JW, Visness CM, Paul Enright P, et al. MD Classification of asthma severity in children: the contribution of pulmonary function testing. Arch Pediatr Adolesc Med. 2006;160:844-50.
2. Stout JW, Smith K, Zhou C, et al. Learning from a distance: effectiveness of online spirometry training in improving asthma care. Acad Pediatr. 2012;12:88-95.
3. Bender BG, Dickinson P, Rankin A, et al. The Colorado Asthma Toolkit Program: a practice coaching intervention from the High Plains Research Network. J Am Board Fam Med. 2011;24:240-8.
4. Duffin C. GPs forced to undergo spirometry training under proposed rules from NHS England. Pulse. December 20, 2013. Accessible here.